Cross-Straits negotiator bid farewell
By Zou Huilin (China Daily)
Updated: 2005-12-31 07:06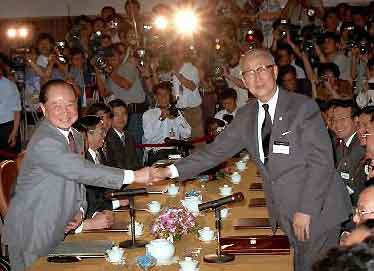 Wang Daohan (L) shakes hands with Koo Chen-fu on April 27, 1993. [Xinhua/file]
He recalled that the university granted Wang an honorary PhD degree earlier this month. However, due to his poor health, Wang was unable to go to Hong Kong.
On December 11, Lau sent the robe and certificate to Wang, who was hospitalized in Ruijin Hospital.
Wang, in return, sent Lau two Chinese paintings one named "shuang qing" (or "Two Green Plants ") with bamboo and orchids, known as the "noblemen" of plants in Chinese culture, to the university, and the other, named "you yu" ("Swimming Fish"), to Lau himself.
Lau and Wang had a photo taken together, and that was Wang's last photo.
Li Zhixing, a doctor in Central China's Henan Province, came all the way to wave goodbye to Wang, his gracious "uncle." Li's father Li Peirong was Wang's old friend in the same battle in East China in 1942.
While Li Zhixing studied in Shanghai High School, Wang gave him affectionate care and valuable instruction.
While Li was raising funds for a memorial hall, although in serious ill health already, showed his care for the project and donated 3,000 yuan (US$370) to the memorial together with two of his former "battle-comrades."
Wang loved reading, and he always recommended books to children around him, Li recalled.
Fang Yanguang, Wang's secretary, echoed Li, saying that "in my son's childhood, Wang sent me a set of Grimme Brothers and this inspired me to love reading as well."
Wang, as an active promoter for peace across the Straits, will be remembered by people in Taiwan Province, many visitors from Taiwan noted.
ARATS expresses thanks
An ARATS official on Friday expressed sincere thanks to Taiwan, Hong Kong and Macao compatriots, as well as overseas Chinese and foreign personages, for their condolences over the death of Wang, Xinhua reported.
The official expressed the gratitude on behalf of the Taiwan Work Office of the Communist Party of China (CPC) Central Committee and the Taiwan Affairs Office of the State Council, as well as Wang's family, after the ceremony.
The ARATS official said after Wang's death, the people, related departments, political parties and social organizations in Taiwan, Hong Kong and Macao compatriots, overseas Chinese, foreign embassies in China and foreign statesmen sent messages of condolences or wreaths.
While mourning the death of Wang and cherishing the memory of him, they spoke highly of the late ARATS president's contribution to the development of relations across the Taiwan Straits, said the official.
The ARATS is also deeply grateful to the widow and children of Koo Chen-fu, representatives of Taiwan's political parties and social organizations, personages from Taiwan's business community and media, and Wang's friends in Taiwan, who made a special trip to Shanghai to pay their respects to Wang in person, he said.
(China Daily 12/31/2005 page2)