Cross-Straits negotiator bid farewell
By Zou Huilin (China Daily)
Updated: 2005-12-31 07:06
SHANGHAI: Thousands of officials and Shanghai residents attended the Friday morning funeral of Wang Daohan, a former Shanghai mayor who served as the country's long-time envoy on Taiwan affairs. Wang died on December 24 at the age of 90.
Wang was the president of the mainland-based Association for the Relations Across the Taiwan Straits (ARATS) before he died.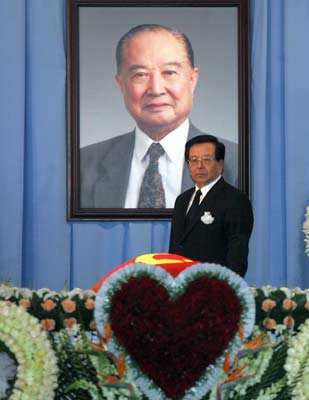 Chinese Vice-President Zeng Qinghong walks past the coffin of Wang Daohan in Longhua Funeral House in Shanghai, December 30, 2005. [Newsphoto]
Though the funeral was officially open at 10 am, many visitors gathered at the grand hall of the Longhua Funeral Parlour as early as 8 o'clock, some of whom brought with them self-made wreaths.
The pair of calligraphic couplets hanging at the gate of the hall paid tribute to Wang, the man who helped to promote economic, technological and cultural exchanges between the mainland and Taiwan Province, hand in hand with Koo Chen-fu, the late chairman of the Taiwan-based Straits Exchange Foundation (SEF).
Wang, in his favourite black suit, was lying above the bed made of white and yellow flowers, surrounded by flower baskets and wreaths sent by his family. The wreaths from President Hu Jintao, former president Jiang Zemin, Premier Wen Jiabao and Vice-President Zeng Qinghong, were placed in the middle of the hall's front part.
A number of renowned scholars and well-known figures also sent condolences to Wang's family. A group of Taiwan personages arrived on Thursday for the funeral service.
By 7 pm Thursday, those who had arrived in Shanghai included Yen Cho-yun, widow of Koo, Chiu Cheyne, former secretary-general of SEF, Wu Poh-hsiung, vice-chairman of the Chinese Kuomintang (KMT) party, Chin Chin-sheng, secretary-general of the People First Party (PFP), and Yok Mu-ming, chairman of the New Party. Among them were also representatives of the Hsin Tungmung Hui and the Alliance for the Reunification of China.
Lawrence J. Lau, vice-chancellor of the Chinese University of Hong Kong, was also present.