China: Japanese FM remarks 'irresponsible'
(Channel NewsAsia)
Updated: 2005-12-22 16:19
China on Thursday accused Japan's foreign minister of making irresponsible remarks about Beijing becoming a "considerable threat" because of its rising military spending and nuclear weapons.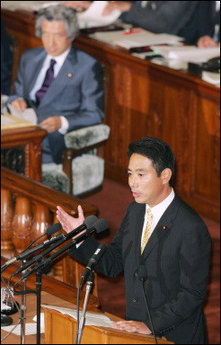 Japan's opposition leader Seiji Maehara (R), seen with Prime Minister Junichiro Koizumi (L), has reiterated his long-held view that China may be a threat to Japan despite growing criticism of his hawkish stance. [AFP]
"As a foreign minister, to so irresponsibly incite such groundless rhetoric about a China threat, what is the purpose?" foreign ministry spokesman Qin Gang said at a regular briefing.
Qin insisted China's increasing economy posed no threat to anyone and had actually benefited Japan.
"China insists on a path of peaceful development. China's development has made commonly-acknowledged contributions towards the world's peace and stability, bringing East Asian countries, including Japan, great development opportunities," he said.
Qin was responding to remarks made by Japan's Foreign Minister Taro Aso as quoted by Jiji Press earlier Thursday.
"It is a neighbouring country that has nuclear bombs. Its military spending is posting two-digit growth and the content of that is not transparent," Aso said in the latest rift between the neighbours.
"I think it is becoming a considerable threat," he said.
Aso, an outspoken hawk appointed in late October, sided with Seiji Maehara, head of the main opposition Democratic Party, who recently called China a "realistic threat".
"I think it is true that (China) is a threat and stirring up worry," Aso said.