Corruption on decline, but big fish caught
(Xinhua)
Updated: 2005-12-18 17:22
He's interview coincided with the trial of Han Guizhi, former chairwoman of the Heilongjiang Provincial Committee of the Chinese People's Political Consultative Conference, and Tian Fengshan, former minister of land and resources.


Han was sentenced to death with a two-year reprieve on Thursday for accepting bribes worth 7 million yuan.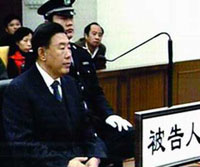 Tian Fengshan, former Heilongjiang governor and former minister of land and resources, stands trial.

On charges of accepting bribes, Tian's trail began Tuesday at Beijing's No.2 Intermediate People's Court. Tian is accused of accepting more than 4 million yuan (US$500,000) in bribes between 1995 and 2003, when he was governor of Heilongjiang Province and later land and resources minister.

Corruption is still serious, He said. "The achievements of the anti-corruption campaign are still far below the requirements of the CPC Central Committee and the expectations of the common people."

"At this transitional period of fundamental structural reform, loopholes exist in China's administrative mechanism," he said, stressing an effective anti-corruption system has yet to be established.

"Greed, hedonism and egoism have grown among a few officials during the development of China's socialist market economy," he said.

On the future of anti-corruption measures, He said the CPC and government will focus on supervision and further improve administrative mechanism.