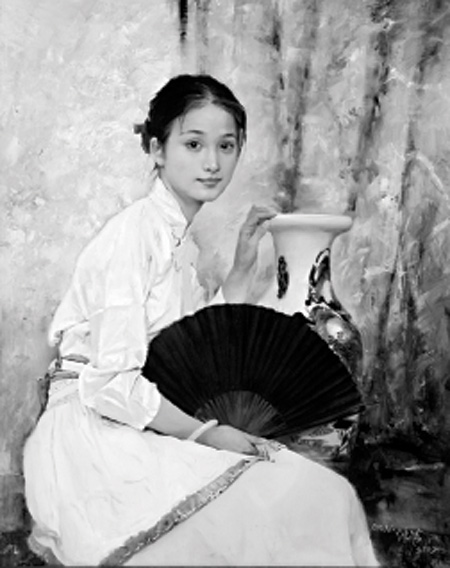 An oil painting, titled "Blue-and White Ceramics and Girl" (right) set to be auctioned with a floor price of 450,000 yuan (US$55,600) by Zhongding International Auction Co Ltd on December 11 at the Tianlun Dynasty Hotel in Beijing.
Pan Honghai, an artist who is also president of the Hangzhou Academy of Calligraphy and Paintings, merges the delicacy of the ceramics with the blooming youth of the girl.
Paintings by Chen Yifei, Lin Fengmian, Wu Guanzhong and Yang Feiyun are to go under the hammer on the same day.
The two small oil paintings by Wu, painted in 1973 when the artist was forced to work on a farm during the Cultural Revolution (1966-76), show fields in the spring.
The auction is to include 900 ink and oil paintings and works of calligraphy with a total floor price of more than US$10 million.