Toxic water of polluted river reaches Harbin
(AFP/Reuters/China Daily)
Updated: 2005-11-24 05:40
Russia seeks details
Russia's environmental protection agency said on Wednesday it was worried that the pollution could affect drinking water supplies in its Khabarovsk region, which the Songhua enters several hundred kilometres downstream from Harbin.
The agency said the chemicals could reach water collection points for the city of Khabarovsk, just over the border from China, by Saturday, adding that it had asked the Russian Foreign Office to contact China about what pollutants were involved.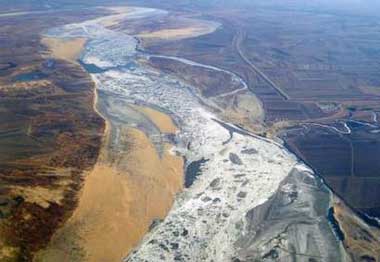 Polluted water in Songhua River reaches Harbin, the capital of northeastern Heilongjiang province November 24, 2005. A stretch of potentially lethally polluted river water headed towards one of China's biggest cities on Thursday after an explosion at a petrochemical plant. China said on Wednesday the blast had caused 'major pollution' in the Songhua River from which Harbin and home to nine million people, draws its drinking water. [newsphoto]

Russian Minister of Natural Resources Yuri Trutnev was quoted by RIA Novosti news agency as saying Russia would take all necessary steps to protect people in Khabarovsk.

"But so as to make sure these measures are effective, we need more information from the Chinese. We need to more accurately know the make-up of the pollutants," he said.

Chinese Foreign Ministry spokesman Liu Jianchao said in Beijing on Thursday that China has informed Russia of the water pollution situation in the river, a tributary of the Heilong River (called Amur River in Russia) on the border between the Russian far east and China.

Russia expressed appreciation of China's information, said Liu, adding that China will further strengthen the monitoring of the pollution situation and the level of pollutants in the river.

China will inform Russia at any moment of the latest situation, to enable the latter to make quick and timely responses, the spokesman said. The blast of the petrochemical plant happened about 350 kilometer away from the China-Russia boundary.