Toxic water of polluted river reaches Harbin
(AFP/Reuters/China Daily)
Updated: 2005-11-24 05:40
"All containers are being used to store water, including the bathtub," a factory manager said.
Prices of bottled water soared in recent days and shops had been ordered to restore prices to normal to prevent panic buying.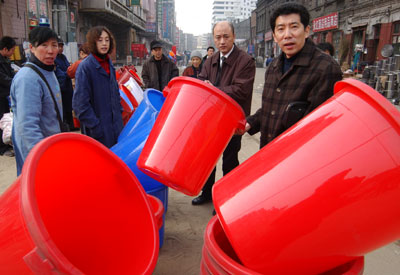 Local residents shop for barrels to store water after the government announced water supply cut in Harbin, Northeast China's Heilongjiang Province November 22, 2005. [newsphoto]
Despite the water cut-off, officials have assured residents of normal operation of the city's heating system, but advised them not to take water from the system for household use.
By Wednesday, the panic buying of water and attempts to get out of the city were not as frantic as in previous days.
Adding to residents' relief was 15 hours of water supply to parts of the city and availability of bottled water in shops and supermarkets.
Zhao Wanxia, a saleswoman, said she had stored enough water to last for a few days. "I first wash vegetables, then use the water to clean the floor or flush the toilet."
More than 16,000 tons of bottled water was being transported to Harbin from neighbouring cities including 10 train carriages carrying 1,000 tons from Shenyang, capital of Northeast China's Liaoning Province.
The city's 918 wells are all in operation and teams from Daqing Oilfield are drilling another 100 wells, said Wang Zhengbang, deputy secretary of the Harbin municipal government.
The government has designated 10 hospitals to treat patients in case they drink contaminated water.
10 million yuan (US$1.2 million) has been earmarked to deal with emergencies; and 1 million yuan (US$120,000) allocatedto help the poor, elderly and those living alone.
As for cities and counties downstream of Harbin, 90 per cent rely on groundwater as the main water source, said Dong Shuhua, director of the Heilongjiang Water Information Bureau.
"They will not be very much affected."