No deal yet for Shanghai's costliest flats
By Cao Li and Wang Xu (China Daily)
Updated: 2005-11-08 05:50
Developers of the Gloria Harbour View project, the other project with the same "incomparable location," has decided to postpone its launch and is considering leasing rather than selling the apartments, in response to the recent sluggish market.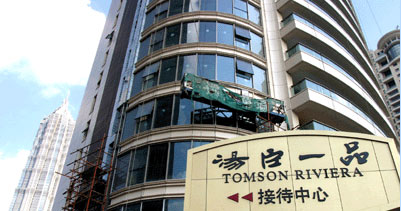 According to Shanghai's official real estate website, not a single deal has been confirmed.


The average price of luxury residential properties in Shanghai fell 4.5 per cent in the third quarter, as most buyers adopted a wait-and-see attitude, according to a report by Colliers International, a real estate agent.

According to Colliers, the vacancy rate of luxury housing dropped to 11.3 per cent from 11.7 per cent over the same period as developers suspended the launch of new projects.

An unnamed analyst from the city's Diheng Property Consulting revealed there were still apartments, totalling 330,000 square metres, awaiting buyers in the Lujiazui area

Remy Chan, national director of Jones Lang LaSalle, said the Riviera project will mainly attract investors, particularly private business owners from the mainland, Hong Kong, Singapore and other east Asian countries.

On October 26, the Shanghai branch of China's State Administration of Foreign Exchange required non-Chinese mainland residents to apply for approval when paying for luxury properties in foreign currency worth more than US$1 million.

The move is an attempt by the municipal government to track the inflow of overseas capital into the property sector, considered one of the major factors inflating the city's housing prices.