No deal yet for Shanghai's costliest flats
By Cao Li and Wang Xu (China Daily)
Updated: 2005-11-08 05:50
SHANGHAI: A week after they were put on the market, not a single apartment has been sold in the city's most expensive new housing project. The failure to shift even one of the flats has been taken as a further sign that Shanghai's once red-hot luxury property sector is continuing to cool off.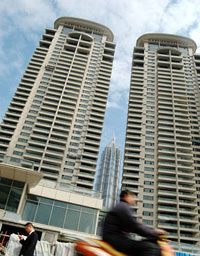 Sales manager is "confident about the project thanks to its incomparable location."
The Tomson Riviera

Weighing in at an average of more than 110,000 yuan (US$13,580) per square metre, flats in the Tomson Riviera project, developed by Hong Kong-listed Tomson Group Ltd, have set a new record as Shanghai's most expensive.

Of the first 74 apartments put up for sale, the cheapest, of 434 square metres, carries a 38 million yuan (US$4.68 million) price tag the most expensive costs more than 170 million yuan (US$21 million).

Before Tomson Riviera came on the scene, the Shanghai MayFair complex claimed the mantle of the city's most expensive apartments with a comparatively bargain-basement average square-metre price of 51,000 yuan (US$6,289).

Michael Bao, project manager for Tomson Riviera, said "many potential buyers" have visited the apartments, but would not say how many clients, if any, had already put down a deposit.

According to the city's official real estate website, not a single deal has been confirmed.

"We are confident about the project thanks to its incomparable location," said Bao, pointing out that Tomson Riviera is one of only two apartment projects right on the Huangpu River in Pudong's Lujiazui area.