The first batch of women pilots specially trained for civil aviation are likely to begin work next year, sources from the General Administration of Civil Aviation of China (CAAC) said Thursday.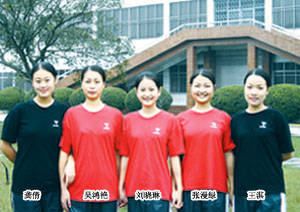 Gong Qian, Wu Hongyan, Liu Xiaolin, Zhang Manlu and Wang Qi (from left to right) are China's first batch of women pilots. [china-woman.com]
The five pilots have been undergoing flight training at the Civil Aviation Flight University of China the country's largest pilot training school in Guanghan, Southwest China's Sichuan Province since 2002.
These five women are trailblazers, who will help China's women gain a footing in the male-dominated profession. Given the severe pilot shortages in China, their qualification is even more welcome.
"Currently, there are only 12 women pilots being trained at the university, including the five soon-to-be graduates," a press official from the CAAC told China Daily. "All of them are performing very well."
Since 1951, China has trained around 300 women pilots in eight batches, but all of them worked in China's air force. A very small number of them were employed by domestic airlines, such as Xiamen Airlines and Shanghai Airlines, after they retired from the military.
China's booming commercial aviation industry is taking off faster than the country can train pilots, which is threatening the healthy development of the world's fastest-growing aviation sector.
According to the CAAC statistics, about 11,000 pilots are employed to fly more than 770 aircraft operated by the major Chinese commercial airlines, a figure industry experts say is insufficient to cope with rocketing demand for passenger services, especially given the strict flying time restrictions observed for safety reasons.
Demand for pilots is rising due to ever-expanding domestic fleets.
Liu Jiangbo, vice-president of Shanghai-based China Eastern Airlines, told China Daily her company plans to increase the number of aircraft from the current 100-odd to 700 by 2020.
Commenting on prejudices against women pilots in the male-dominated sector, Liu said her company cares little about the gender of pilots. "As long as he or she has the flight skills to ensure safety, any pilot, male or female, is welcome in our company," she said.
According to Joanne Young, the president of the International Aviation Women's Association, more and more women are becoming involved in the civil aviation sector worldwide.
"There are more opportunities for women to receive pilot education in aviation schools in European and North American countries," she said during an interview with China Daily yesterday, " and hopefully it is the same in China."
More than 200 female representatives gathered in Shanghai yesterday to discuss the development of world air transport at the 17th annual conference of the International Aviation Women's Association, which opened yesterday.
"As commercial aviation takes place worldwide, the number of women pilots and management will continue to grow," Young said.