Disposable tableware poses health risk
By Zhang Feng (China Daily)
Updated: 2005-11-03 05:45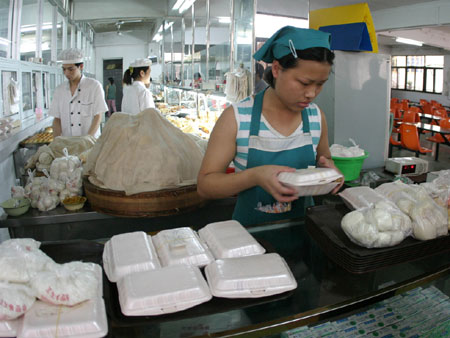 Unsafe materials are widely used in plastic disposable tableware, posing a serious health hazard, experts have warned. [China Daily]
However, the investigation found that polypropylene makes up only half the amount of raw materials, mainly because it is far more expensive.
One ton of polypropylene costs 11,000 yuan (US$1,300) while the same quantity of unsafe materials are available for less than 2,000 yuan (US$240).
Dong said that in the more than 100 enterprise places he visited in Tianjin and Shanghai municipalities and Henan and Liaoning provinces, 60 per cent of the products are not suitable for human use.
Laggard market supervision, light punishment for violators and poor co-ordination between different departments involved in quality control are the main reasons for the present situation, Dong said.
Chinese consume about 6.5 billion pieces of disposable plastic tableware annually.
The quality control authorities have recently intensified the drive to ensure safety of food-related products.
Plastic food wrappers containing a dangerous material DEHA were banned nationwide late last month.
DEHA is a plasticizer which makes the PVC material pliable.
(China Daily 11/03/2005 page1)