Disposable tableware poses health risk
By Zhang Feng (China Daily)
Updated: 2005-11-03 05:45
Disposable tableware is a serious health hazard, experts warned yesterday, after half of such products were found to be made of unsafe material.
The warning follows several years of a nationwide investigation by the General Administration of Quality Supervision, Inspection and Quarantine.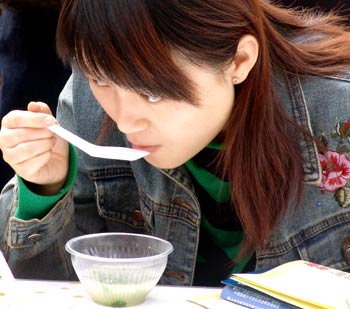 A girl tastes soup from a disposable tableware in Zhengzhou, Central China's Henan Province. [newsphoto/file]
Details of the study will be released soon, according to a report on www.xinhuanet.com yesterday.
An excessive amount of recycled plastic and unsafe materials are used to produce throwaway tableware, including boxes, bowls and spoons, said Dong Jinshi, vice-director of the Packing Resources Utilization Commission of the China Packing Association. He has been closely associated with the investigation.
Overuse of recycled plastic and materials such as talcum powder and calcium carbonate can generate chemicals that can cause cancer if they come in contact with hot food and oil. And if industrial paraffin wax is used in the manufacturing process, it can be carcinogenic.
Chemicals such as acetic acid dissolve in food and then affect the digestive system and liver function if such products are used over a long time, Dong said.
The unsafe materials are widely used in place of polypropylene, which should account for up to about 80 per cent of the product for it to be safe.