Saddam pleads innocent, gets into scuffle
(AP)
Updated: 2005-10-20 07:43
"Who are you? I want to know who you are," Saddam demanded.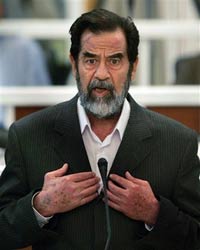 Saddam Hussein defiantly speaks to the Presiding Judge Rizgur Ameen Hana Al-Saedi as his trial begins in a heavily fortified courthouse in Baghdad's Green Zone October 19, 2005. [Reuters]

"I do not respond to this so-called court, with all due respect to its people, and I retain my constitutional right as the president of Iraq," he said, brushing off Amin's attempts to interrupt him. "Neither do I recognize the body that has designated and authorized you, nor the aggression because all that has been built on false basis is false."

After repeatedly refusing to give his name, Saddam finally sat. Amin read his name for him, calling him the "former president of Iraq."

"I said I'm the president of Iraq," Saddam snapped back. "I did not say deposed."

Later, Saddam stood, smiling, and exchanged greetings with other defendants during a break in the proceedings. He then asked to step out of the room, but when two guards tried to grab his arms to escort him out, he angrily shook them off.

The guards, wearing blue bulletproof vests, tried to grab him again, and Saddam struggled to free himself. Saddam and the guards shoved each other and yelled for about a minute. In the end, he was allowed to walk independently out of the room, with the two guards behind him.

The three-hour session ended with Amin announcing an adjournment until Nov. 28.

The trial was broadcast on satellite stations with a 20-minute delay. But technical quality was poor, with the sound cutting out frequently and the picture going blank several times. Reporters at the courtroom struggled to follow the proceedings from behind a bulletproof glass partition.

The Iraqi government did not explain the 20-minute delay, but one effect could have been to cut out scenes like the scuffle, which did not appear on tape.

"My father is brave, a lion, I am proud of him," said one of Saddam's daughters, Raghad Saddam Hussein.

"He is a man who dedicated his life to serve his country, he was brave in his youth, so how can he be afraid now?" she told the Dubai-based Arabiyah satellite channel from Jordan.

Reaction to Saddam's trial varied in Iraq, where his loyalists, together with hardcore members of his Baath party and feared security services are an important faction of a Sunni-led insurgency wracking Iraq for the past 2 1/2 years.

In Baghdad, Shiite construction worker Salman Zaboun Shanan sat with his family at home in the Shiite neighborhood of Kazimiyah, having taken the day off from work to watch the trial.

When Saddam appeared on television, his wife spat in disgust.

"I hope he is executed, and that anyone who suffered can take a piece of his flesh," said Shanan, who was jailed during Saddam's rule, as was his wife, Sabiha Hassan, and several of their sons.

But across the Tigris River in the mainly Sunni Arab district of Azamiyah, some were embittered by the trial of Saddam, whose regime was dominated by Sunni Arabs who have now lost their power. "Saddam is the lesser of evils," said engineer Sahab Awad Maaruf, comparing Saddam to the current Shiite-Kurdish led government. "He's the only legitimate leader for Iraqis."