Saddam pleads innocent, gets into scuffle
(AP)
Updated: 2005-10-20 07:43
A defiant Saddam Hussein quarreled with judges and scuffled with guards at the opening of his long-awaited trial Wednesday, rejecting the tribunal's right to judge him and insisting he is still the president of Iraq.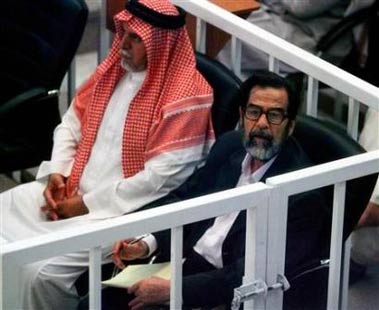 Saddam Hussein wears glasses as he takes notes on a pad of paper beside fellow defendant Awad Hamad al-Badar at their trial held under tight security in Baghdad's heavily fortified Green Zone in Iraq October 19, 2005. [Reuters]
Sitting inside a white pen with metal bars, Saddam appeared gaunt and frail and his salt-and-pepper beard was unkempt as he pleaded innocent to charges of murder, torture, forced expulsions and illegal detentions. He wore a suit with a white shirt and no tie.
Gone were the Homburg hat, the cigar, the shotgun fired from a reviewing stand. So were a few pounds after nearly two years in an American military prison. Still, the swagger and the smirk remained, the bearing of a man accustomed to 23 years of unchallenged power.
If convicted, the 68-year-old Saddam and seven of his regime's henchmen who appeared with him in the hearing could face the death penalty for their role in the 1982 killing of nearly 150 people from the mainly Shiite town of Dujail north of Baghdad after a failed attempt on Saddam's life.
Iraqis and much of the Arab world watched glitchy television coverage of the proceedings intently, watching Saddam strike a pose reminiscent of the once-ubiquitous television pictures of him sitting at the head of a table surrounded by "yes" men.
"Since the fall of the regime, we have been waiting for this trial," said Aqeel al-Ubaidi, a resident of Dujail. "The trial won't bring back those who died, but at least it will help put out the fire and anger inside us."
Wednesday's session, held under tight security, was testy from the start, when the judge asked Saddam to take the stand first.
As the courtroom fell silent, Saddam got up from his chair and took the podium, holding a copy of the Quran. He refused to state his name for the record and turned the question back on the presiding judge, Rizgar Mohammed Amin, a Kurd whose identity was revealed to the public only on the day of the trial.