Stage set for bigger space push
By Li Jing and Jiao Xiaoyang (China Daily)
Updated: 2005-10-18 05:51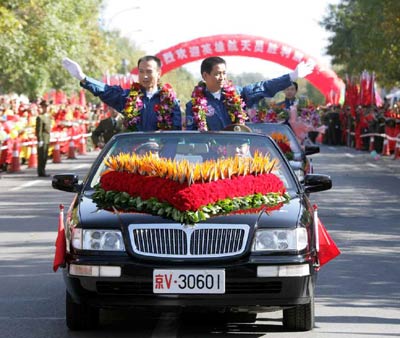 Astronauts Fei Junlong (L) and Nie Haisheng wave to welcoming crowds at a military airport in west Beijing upon their arrival in the Chinese capital October 17, 2005. [Xinhua]
Tang said that the first stage of China's space programme, mapped out in 1992, has been completed with the "perfect flight" of Shenzhou VI space walks and and docking are the next stage.
"The final stage is to set up a permanent space lab and build a space engineering system," he said, without giving a timetable.
The total cost for Shenzhou VI mission was about 900 million yuan (US$111 million), and all the money was from the central government, said Tang.
Xu Dazhe, deputy general manager of China Aerospace Science and Technology Group who also addressed yesterday's press conference, said good progress was being made on an unmanned mission to the moon including lunar orbiting and lunar landing and a moon-circling satellite is being developed. The mission is named after the fairy maiden Chang'e who, in classic Chinese tales, is believed to be living on the moon.
"My corporation is participating in the research and development of the Chang'e-1 lunar probe satellite and a launch vehicle," Xu said.
At another press conference yesterday, Sun Laiyan, director of the China National Space Administration, said technology will be further improved to suit the demands of more challenging space missions.
One challenging job is to develop more powerful and environment-friendly rockets that can carry more.
Currently, China's rockets have a nine-ton payload for low Earth orbits ranging from 500 to 2,000 kilometres, and a 5-ton payload for the 36,000-kilometre-high geosynchronous orbit.
The goal is to increase the payload to 25 tons for low Earth orbits and 14 tons for the geosynchronous orbit, according to Sun, who is also deputy head of the Commission of Science, Technology and Industry for National Defence.
He confirmed China plans to launch its first satellite to orbit the moon around 2007.
Despite the success of Shenzhou VI that made China only the third manned-space-exploration country after Russia and the United States, Sun said there is no room for complacency.
"Many key technological problems need to be addressed, and we need to have more ability to conduct basic research, more funds and more international co-operation," said Sun.
(China Daily 10/18/2005 page1)