Stage set for bigger space push
By Li Jing and Jiao Xiaoyang (China Daily)
Updated: 2005-10-18 05:51
Astronauts Fei Junlong and Nie Haisheng were all smiles as they emerged from Shenzhou VI safe and sound before dawn yesterday at the end of a five-day space voyage.
The whole nation, too, was wreathed in smiles: basking in pride and joy at the successful completion of the historic mission.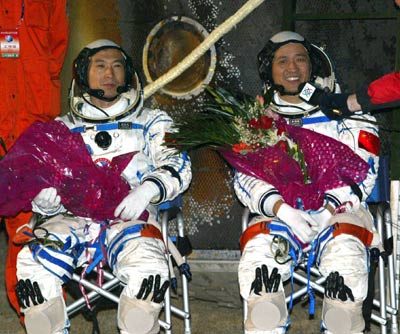 Astronaut Nie Haisheng (R) talks to journalists after he and Fei Junlong got out of the re-entry capsule of the Shenzhou VI spacecaft at the main landing field in Central Inner Mongolia Autonomous Region Monday morning October 17, 2005.[Xinhua]
History had, indeed, been made. And history beckoned in the form of advanced space and lunar projects.
Hours after the return of Shenzhou VI, China's space programme officials unveiled an ambitious programme that ranges from space walks to docking manouevres; and from orbiting the moon to a permanent space lab.
"We plan to conduct a space walk around 2007; and launch target fliers and manage rendezvous docking in orbit by 2009-12," Tang Xianming, director of the China Manned Space Engineering Office, said at a press conference yesterday morning.
The scheme secured the central government's approval in February, he said.