Koizumi's shrine visit draws rage, protests
By Guo Nei (China Daily)
Updated: 2005-10-18 05:51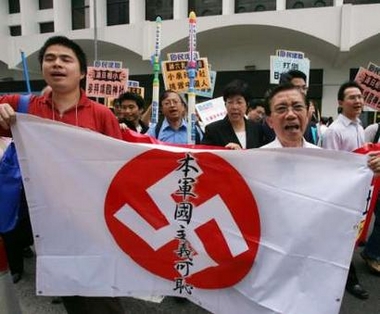 Protestors holding a banner march to the Japanese consulate in Hong Kong October 17,2005 to protest against Japanese Prime Minister Junichiro Koizumi's visit to the Yasukuni Shrine. The banner in Chinese reads, 'Shame on Japanese militarism'. [Reuters]
"The will of the people cannot be insulted," the statement quoted a Chinese proverb, adding that "anyone who goes against the trends of the times will let down both ancestors and descendants, and will eventually 'lift a rock only to drop it on his own feet'," it said.
Also yesterday, Chinese Ambassador to Japan Wang Yi sternly criticized Koizumi for his shrine visit.
The Chinese Government firmly opposes such visits at any time and in any form, he said.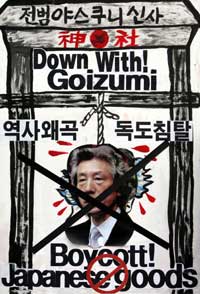 A sign denouncing Japanese Prime Minister Junichiro Koizumi is seen during an anti-Japan protest near the Japanese embassy in Seoul October 17, 2005. [Reuters]

Koizumi must "take the historic responsibility for undermining the bilateral relationship," he said.

He called the visit a "serious provocation to the Chinese people," pointing out that it came just hours after China's second manned space mission returned to Earth.

In Beijing, a dozen demonstrators, waving banners, handed over a petition at the Japanese Embassy to protest against Koizumi's visit to the war shrine. "They (the Japanese invaders) have trampled their feet in the blood of Asia's people," protester Zhang Jianyong read from a statement in front of the embassy.

In Seoul, South Korean Foreign Minister Ban Ki-moon summoned Japanese Ambassador Shotaro Oshima to protest the visit, expressing Seoul's "deep regrets."

"It's not an exaggeration to say that Prime Minister Koizumi's visit to the Yasukuni Shrine has been the biggest stumbling block that has strained South Korea-Japan relations," Ban told Oshima.

"Our government has repeatedly requested that he not visit the shrine, which enshrines war criminals who inflicted indescribable suffering and pain in the past."

Later yesterday, South Korea's presidential spokesman Kim Man-soo said a summit between President Roh Moo-hyun and Koizumi scheduled later this year would be "difficult."

(China Daily 10/18/2005 page1)