Koizumi's shrine visit draws rage, protests
By Guo Nei (China Daily)
Updated: 2005-10-18 05:51
China yesterday lodged a strong protest over Japanese Prime Minister Junichiro Koizumi's visit to the Yasukuni Shrine a symbol of Japanese militarism and expressed strong indignation.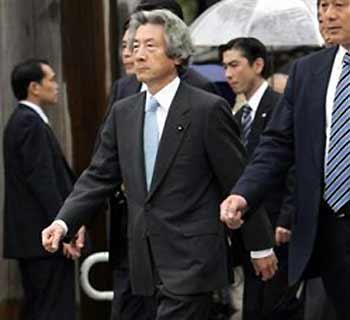 Japanese Prime Minister Junichiro Koizumi arrives at the Yasukuni Shrine in Tokyo Monday, Oct. 17, 2005.[AP]
The Foreign Ministry issued a firmly-worded statement yesterday condemning the move.
Foreign Minister Li Zhaoxing urgently summoned Japanese Ambassador to China Koreshige Anami to express condemnation.
Despite the opposition from China and other Asian countries and their peoples, Koizumi once again visited Yasukuni Shrine, where 14 Class A war criminals of World War II are honoured, the statement said.
Such a move "randomly hurt the feelings and dignity" of the victimized countries and their peoples during the war and "seriously undermined Sino-Japanese relations", it said.
It was Koizumi's fifth visit to the shrine since he took office in April 2001. Despite the Chinese side's sincerity and efforts at safeguarding Sino-Japanese relations, Koizumi, "obstinately sticks to a wrong and dangerous course, which cannot but outrage us," it said.
Koizumi "must shoulder all responsibilities for the severe political consequences resulting from his wrongdoing," it said.