Astronauts now back home, new mission in 2007
(AFP)
Updated: 2005-10-17 16:45
Soon after the astronauts touched down, Tang Xianming, director of the China Manned Space Engineering Office, announced that the next manned mission would take place in 2007 and would include a spacewalk.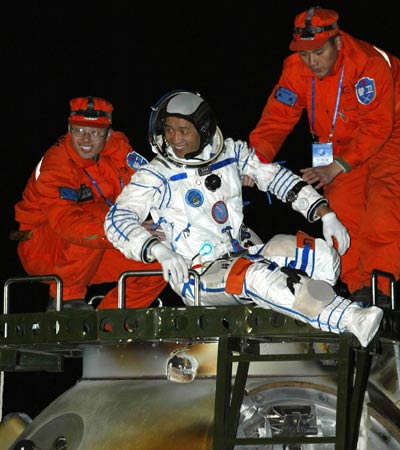 Astronaut Nie Haisheng gets out of the re-entry capsule of the Shenzhou VI spacecraft at the main landing field in Central Inner Mongolia Autonomous Region Monday morning October 17, 2005. Shenzhou VI landed after a five-day flight. [Xinhua]

"Now I can tell you all that around 2007, astronauts would walk out of the cabin and walk in space," he told a press conference.

Two spacecraft would dock in orbit some time in the period between 2009 and 2012 in preparation for establishing a permanent space station, he said.

China's top legislator Wu Bangguo, who watched the return of Shenzhou VI from the Beijing Aerospace Command and Control Center, hailed the mission as a milestone.

"It is of great significance in elevating China's prestige in the world and promoting China's economic, scientific and national defense capabilities, and its national cohesiveness," he was quoted saying by the People's Daily website.

Xinhua reported that the capsule landed upright after touching down at 4:33 am (2033 GMT Sunday), just one kilometer (1,100 yards) from the intended landing site.

Shenzhou VI orbited around the earth at a speed of 7.9 kilometers (4.9 miles) per second and travelled 3.25 million kilometers during the five-day journey, it said.

"It was, as far as we know, what I'm sure they'd like to refer to as a picture-perfect mission," said Joan Johnson-Freese, an expert on China's space program at the US Naval War College.

Fei and Nie were taken by special plane to a military airport on the outskirts of Beijing, saluting briskly and shaking hands with Defense Minister Cao Gangchuan.

"I can feel that lots of people are thinking about us. We're very grateful for all the love and concern from our motherland and its people," Nie said.