Astronauts now back home, new mission in 2007
(AFP)
Updated: 2005-10-17 16:45
China's second manned space flight ended successfully as the Shenzhou VI craft returned to Earth, leading to patriotic celebrations and plans for an ambitious new mission in 2007.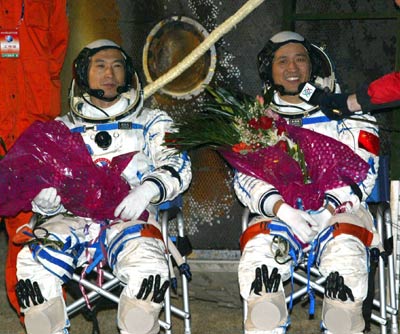 Astronaut Nie Haisheng (R) talks to journalists after he and Fei Junlong got out of the re-entry capsule of the Shenzhou VI spacecaft at the main landing field in Central Inner Mongolia Autonomous Region Monday morning October 17, 2005. The module landed 4:33 A.M. after a five-day flight.

The capsule carrying astronauts Fei Junlong and Nie Haisheng parachuted softly onto a field in the northern Chinese region of Inner Mongolia to bring their five-day mission to a close, Xinhua news agency said.

"Our journey in space was very smooth. The living and working conditions inside the cabin were very good. Our health is okay, thanks," Fei said on state television, with a radiant smile.

Emerging from the module, the two took a few seconds to adjust to the Earth's gravity, before being presented with bouquets of flowers and waving to assembled recovery teams and ground control staff.

The successful mission, followed for the past 115 hours by millions of people across the country, boosted the nation's prestige and marked another step in China's progress towards becoming a space power.