Last ditch attempt for agreement at nuke talks
(Reuters)
Updated: 2005-09-18 11:53
BEIJING (Reuters) - Delegates at talks designed to bring an end to the North Korean nuclear crisis were in a last ditch attempt to reach agreement on Sunday, with failure to break the impasse likely to send negotiations into recess.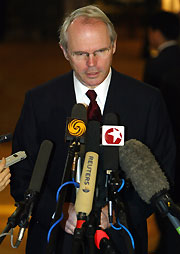 Christopher Hill, U.S. Assistant Secretary of State for East Asian and Pacific Affairs and top U.S. negotiator for the six-party talks, speaks to journalists before continuation of talks in Beijing September 18, 2005. [Reuters]

The talks, involving the two Koreas, the United States, Japan, Russia and China have been deadlocked over Pyongyang's insistence on its right to atomic energy, a position Washington had rejected.

"We will have important meetings today that will determine either the success or failure of the talks," Japan's chief delegate, Kenichiro Sasae, told reporters.

Failure to reach an agreement on dismantling North Korea's nuclear weapons programs in exchange for aid and security guarantees could prompt Washington to take the issue to the U.N. Security Council and press for sanctions.

The North has said sanctions would be tantamount to war.

Chief delegates were meeting on Sunday to discuss a draft statement put forward by China, after a group session and a flurry of bilateral meetings on Saturday failed to bring consensus.

Delegates said they had not given up on the document.

"I believe there is a chance of reaching an agreement," Sasae said. "We don't know whether there has been progress until we have a meeting."





| | |
| --- | --- |
| | |
| Hu concludes North American trip | |

| | |
| --- | --- |
| | |
| Sculpture exhibition to mark the war victory | |

| | |
| --- | --- |
| | |
| Children of migrant workers receive education in Guiyang | |
Today's Top News
Top China News

Last ditch attempt for agreement at nuke talks




President Hu concludes trip in Canada




China sets up new oil group to meet demands




Summit endorses watered-down UN reform




Mainland population below 1.37 billion by 2010




Music giants sue Baidu over music downloads