Dozens found dead at New Orleans hospital
(AP)
Updated: 2005-09-13 08:45
"This may not be quite on the scale of building the pyramids, but it's close," Fair said. He had no cost estimates.
FEMA's embattled director Mike Brown also announced Monday he would resign "in the best interest of the agency and best interest of the president." Brown has been vilified for the slow and unfocused federal response to a hurricane, already considered the nation's costliest ever.
Insurance experts have doubled to at least $40 billion their estimate of insured losses caused by Katrina. Risk Management Solutions Inc. of Newark, Calif., put the total economic damage at more than $125 billion.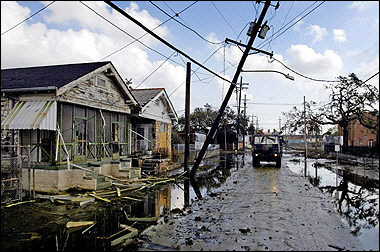 US President George W. Bush, Mayor Ray Nagin, Lousiana Governor Blanco and Vice Admiral Thad Allen tour through an area of New Orleans, Louisiana, standing in the back of a military truck, where the flood waters recently receeded. [AFP]

Lawmakers in Washington proposed some tax changes Monday to help the victims get back on their feet, such as letting them tap retirement accounts without penalty and encouraging donations of cash, food and school books.

Former New Orleans Mayor Marc Morial called for a compensation fund for the hurricane victims similar to the fund created for victims of the terrorist attacks of Sept. 11, 2001.

The death toll has also been rising as more bodies are recovered across the region.

At least 40 bodies were found Sunday at the 317-bed Memorial Medical Center, but the exact number was unclear. Bob Johannesen, a spokesman for the state Department of Health and Hospitals, said 45 patients had been found; hospital assistant administrator David Goodson said there were 44, plus three on the grounds.

Also unclear was exactly how the patients died.

Steven Campanini, a spokesman for the hospital's owner, Tenet Healthcare Corp., said some of the patients were dead before the storm arrived, and none of the deaths resulted from lack of food, water or electricity to power medical equipment. He said many were seriously ill.





| | |
| --- | --- |
| | |
| Russian delegation arrives for nuclear talks | |

| | |
| --- | --- |
| | |
| 4th anniversary of 9/11 commemorated in Beijing | |

| | |
| --- | --- |
| | |
| Post-Katrina New Orleans | |
Today's Top News
Top World News

Fresh nuke talks bid to end nuclear impasse




Hu signs trade pacts with Mexico's Fox




Select firms float non-tradable shares




Human tests prove AIDS vaccine safe




Boeing sells first private jet in China




Typhoon Khanun hits East China, killing 14