Dozens found dead at New Orleans hospital
(AP)
Updated: 2005-09-13 08:45
The bodies of more than 40 mostly elderly patients were found in a flooded-out hospital in the biggest known cluster of corpses to be discovered so far in hurricane-ravaged New Orleans, AP reported.
The exact circumstances under which they died were unclear, with at least one hospital official saying Monday that some of the patients had died before the storm, while the others succumbed to causes unrelated to Katrina.
The announcement, which raises Louisiana's official death toll to nearly 280, came as President Bush got his first up-close look at the destruction.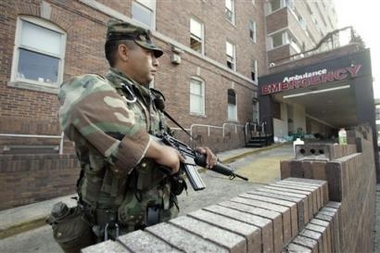 A guard keeps watch at Memorial Medical Center, Monday, Sept. 12, 2005, in New Orleans where more than 40 bodies were recovered. [AP]

"My impression of New Orleans is this: That there is a recovery on the way," Bush said in the shadow of a freeway overpass, destroyed cars littering the landscape behind him.

Despite the devastation and miles of still flooded streets, there were encouraging signs of recovery: Nearly two-thirds of southeastern Louisiana's water treatment plants were up and running. Louis Armstrong New Orleans International Airport planned to resume limited passenger service Tuesday. Forty-one of 174 permanent pumps were in operation, on pace to help drain the still half-flooded city by Oct. 8.

That doesn't mean a quick return to normalcy for residents or for business owners, who were let back in Monday to assess the damage and begin the slow process of starting over.

The Federal Emergency Management Agency expects to provide temporary housing for 200,000 hurricane victims for up to five years, most in Louisiana. The agency is planning to use trailer homes to create "temporary cities," some with populations up to 25,000, said Brad Fair, head of the FEMA housing effort.





| | |
| --- | --- |
| | |
| Russian delegation arrives for nuclear talks | |

| | |
| --- | --- |
| | |
| 4th anniversary of 9/11 commemorated in Beijing | |

| | |
| --- | --- |
| | |
| Post-Katrina New Orleans | |
Today's Top News
Top World News

Fresh nuke talks bid to end nuclear impasse




Hu signs trade pacts with Mexico's Fox




Select firms float non-tradable shares




Human tests prove AIDS vaccine safe




Boeing sells first private jet in China




Typhoon Khanun hits East China, killing 14