Exit polls: Koizumi wins Japan election
(Reuters)
Updated: 2005-09-11 20:14
OUT OF THE PICTURE?
The main opposition Democratic Party had argued that only a change of government could achieve reform and that other issues such as pension reform mattered more than the post office -- although the Democrats also say Japan Post needs to be reformed.
"I did what I had to do, but it was frustrating that we were never really arguing on the same plane," said Katsuya Okada, the leader of the Democrats, before the results were known.
"I wanted to debate policy."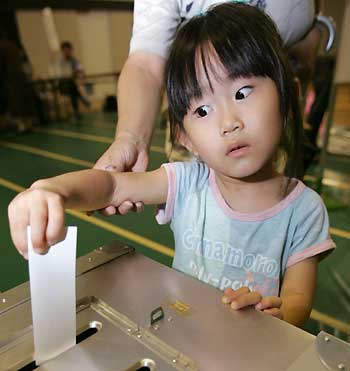 A Japanese girl slips her grandmother's vote into a ballot box at a polling station in Tokyo for Japan's general election September 11, 2005. [Reuters]

NHK's exit poll showed the centrist Democrats taking only between 84 and 127 seats, a sharp defeat that was likely to raise questions about the future of a two-party system in Japan, where the LDP has ruled on its own or in a coalition for most of the past five decades.

Koizumi sprang to power in 2001 promising to change the hide-bound LDP or destroy it in the attempt, but his reformist image had faded a bit after compromises with the LDP old guard, who consider distributing benefits to the hinterlands and interest groups to be their main job.

His populist appeal, the media strategists hired by rival parties, and the debates over policies have contrasted sharply with past campaigns, in which TV-shy lawmakers wooed supporters mainly with budget handouts and other favours.

Nationwide voter turnout came to an average 50 percent as of 6 p.m. (0900 GMT), up 2.65 percentage points at the same time in the previous election in 2003, according to government figures.

Koizumi had vowed to resubmit the postal bills if his coalition won, and several upper house rebels have already said they would back the legislation if the coalition took a majority.

Such a hefty win could also prompt calls for Koizumi to stay on after his term as LDP president ends in September 2006.

The LDP had 249 seats and its junior partner, the New Komeito, 34 before the 480-member lower house was dissolved, against the Democrats' 175. But Koizumi refused to put 37 rebels who voted against postal reform on the party ticket.





| | |
| --- | --- |
| | |
| 4th anniversary of 9/11 commemorated in Beijing | |

| | |
| --- | --- |
| | |
| Post-Katrina New Orleans | |

| | |
| --- | --- |
| | |
| 12th APEC Finance Ministers Meeting | |
Today's Top News
Top World News

Typhoon Khanun pummels East China city




China, Canada to build strategic partnership




China's diplomacy enters golden age




Katrina costs could approach those of wars




Hong Kong Disneyland ready to open Monday




Dengue plunges Singapore into health crisis