Exit polls: Koizumi wins Japan election
(Reuters)
Updated: 2005-09-11 20:14
Japanese Prime Minister Junichiro Koizumi's long-ruling party won a landslide victory in Sunday's election for parliament's lower house, TV exit polls showed, a stunning win that will tighten the U.S. ally's grip on power and give him a broad mandate for market-friendly reform, Reuters reported.
An exit poll by public broadcaster NHK showed the Liberal Democratic Party, which has been governing in coalition, would win between 285 and 325 seats in the 480-seat chamber.
That represents a striking victory for Koizumi, a media-savvy maverick who gambled his career in a populist appeal to voters to back his plan to privatise Japan's vast postal system, a financial giant with $3 trillion in savings and insurance assets.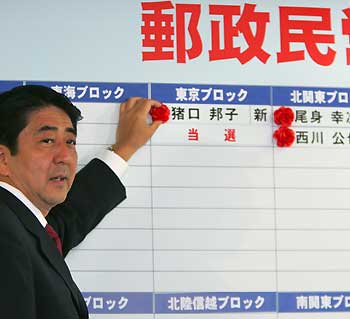 Shinzo Abe, acting Secretary General of the ruling Liberal Democratic Party (LDP), puts a paper rose on the name of a candidate, who was expected to be elected in the general election, at the LDP headquarters in Tokyo September 11, 2005. [Reuters]

"Many citizens are telling us to press ahead again with reforms," LDP policy chief Kaoru Yosano said on TV after the exit poll results.

NHK's findings were in line with those of private television broadcasters including TBS, which forecast the LDP would win between 298 and 313 seats.

NHK also forecast that the LDP and its partner, the New Komeito party, would win a combined total of between 313 and 361 seats, allowing them to dominate the powerful lower chamber.

The 63-year-old Koizumi, a telegenic veteran with an aptitude for punchy slogans but a mixed record on implementing change, called the election after LDP lawmakers helped the opposition to defeat bills to privatise Japan Post in the upper house.

Koizumi's shock decision to strip LDP rebels of party backing and send what media called "assassin" candidates to challenge the "traitors" grabbed the limelight, making the election as much a referendum on Koizumi himself as on his policies.

"I want to let Mr. Koizumi finish off the reforms he has started," retiree Kiyoshi Asaoka, 75, said after voting in the western city of Osaka.

"Pensions and social security are issues for me because of my age, but I wanted to have Mr. Koizumi lead," he added.

A victory for Koizumi's two-party coalition will please Washington, where he is seen as a staunch friend for backing the U.S.-led war on Iraq, and would cheer investors in Japanese financial markets, who want reform to stay on track.

But there will be scant applause in China and South Korea, ties with which have chilled since he took office in 2001 due to perceptions of rising Japanese nationalism and regional rivalry.





| | |
| --- | --- |
| | |
| 4th anniversary of 9/11 commemorated in Beijing | |

| | |
| --- | --- |
| | |
| Post-Katrina New Orleans | |

| | |
| --- | --- |
| | |
| 12th APEC Finance Ministers Meeting | |
Today's Top News
Top World News

Typhoon Khanun pummels East China city




China, Canada to build strategic partnership




China's diplomacy enters golden age




Katrina costs could approach those of wars




Hong Kong Disneyland ready to open Monday




Dengue plunges Singapore into health crisis