Hui Lau Shan, dessert restaurant
(City Weekend)
Updated: 2005-03-17 10:28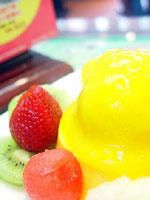 Hui Lau Shan, one of Hong Kong's best dessert restaurants, finds its new location in Hong Kong New World Tower on Huaihai Zhong Lu. The L-shaped restaurant lies alongside a number of other stores and cafes on the first floor of the tower and is a good pit stop to enjoy some healthy desserts after a frenzied bout of shopping. Though not spacious, it's clean and light with soft background music allowing you to relax and chat with your friends.
Of course it is not just a place to chat and relax, but more importantly a place to tuck into some healthy and yummy desserts as well. A good choice would be the Mango Combo (*38), a mixture of fruit and ice cream. Sago juice with mixed fresh fruits (*28) is another popular dessert. A fruit salad dish mix of mango, kiwi, watermelon, strawberry, coconut and ice cream will leave your taste buds surprised but happy. All the ingredients are said to be imported, while I was impressed by the fast service.
Crowds of people from all walks of life patronize the restaurant, keeping the four chefs and six waiters fairly busy. Due to its popularity deliveries are only made to people a short distance away (with a minimum order of *48), so you might as well walk over there yourself and see what all the Hong Kong fuss is about.