Shanghai's Romantic Bars
By Christina Soong (that's Shanghai)
Updated: 2004-11-16 14:52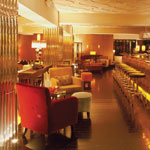 The right bar can make or break a date. Whether you're sailing into uncharted waters with a new object of desire, or rekindling relations with an existing paramour, choosing the right venue for your romantic trysts is almost as important as choosing the right person to accompany you.
In terms of choosing your date, well, I'll leave that up to you - we're all adults here. My date on my quest for romantic nirvana was Tim, a gorgeous 34-year-old German/ Australian with a passion for aviation.
Now it is a widely acknowledged truth that intimate and stylish bars exponentially increase your romantic chances as opposed to clubs promoting 100RMB all-you-can-drink nights or neon-lit horrors filled with drunken businessmen and scantily clad xiao jies. Remember that we are talking about romance here.
Within Shanghai's myriad of bars, here are five to try:

Red
Ahhh?­ Red. We both liked this bar a lot. With the contemporary art hanging on the walls, the thoughtful lighting, and the excellent live music, Red is a sophisticated den for grown ups.
Set in an old villa, the restaurant and bar is stylish without being pretentious, and intimate without being boring. Moreover, the bar staff is excellent - they know their drinks and they take pride in their work.
We were hoping to sit outside on the terrace but settled for a seat at the bar. From a creative drinks menu, we chose a Lychee Rhapsody (a heavenly taste sensation at 48RMB), a Vodka Martini (48RMB) and a Green Sorgu (an intriguing shooter of Korean spirits, vodka and yoghurt at 38 RMB).
Did we feel like we were being looked after? Absolutely. Did we feel sexy? Oooh, yes. Mai dan! Taxi!

Tatami Bar
While I loved this bar, Tim hated it. Not the best start to a date! I loved the Japanese d:|cor, the discrete semi-private rooms, the dim lighting and eclectic music selection. He hated sitting on the tatami mat covered floors, complained about the too-cold air-conditioning, described the d:|cor as "like being in a prison" and thought that extremely dim lighting was intimidating and pretentious.
Sadly, it was very quiet the night we visited. A bar like this needs a strong and buzzing clientele otherwise there's a vague air of disappointment about the place. But this place has sooo much potential. If Tatami were in Melbourne or London it would be filled with beautiful young things swigging boutique beer and getting down 'n' dirty on the tatami mats.
So if you prefer intimacy and peace to renao (hot and noisy) you should check this place out. Drinks are very reasonable (beer at 30RMB, cocktails at 50RMB). Moreover, it is possible to make out in the semi-private rooms without fear of being sprung by over-zealous staff.

Face
Set in an old colonial house in the Ruijin Gardens, Face is a popular Shanghai hangout. If you wanted to bond with your work colleagues, get drunk with a buddy or even make some new friends, then Face would be perfect. There's an easy-going nonchalance and buzzing atmosphere that lends itself extremely well to some heavy socializing and serious drinking. So if you were going on a date with someone you didn't know very well, Face would be ideal; there's enough going on and enough people to watch so that any awkward moments could be glossed over with ease.
Settling in on a couch surrounded by extravagant floral displays, we perused the menu and ordered drinks (Me: Mojito, 60RMB; Tim: Dirty Martini, 60RMB). However, instead of whispering dirty-sweet nothings to one another, we kept getting distracted by the well-heeled clientele (including a twentysomething fellow sporting a genuine 80s-style mullet 'do). It was then that we realised that Face was perhaps a little too happening to be romantic.
Nevertheless, we may have felt differently about this place if we'd managed to score the best seat in the house - a traditional four-poster Chinese bed nestled in one corner. The couple lounging on the bed drinking cocktails looked very comfortable indeed. I was tempted to ask if we could join them but thought they might get the wrong idea.

The Door
Run by the same team behind Yong Fu Elite, The Door is a sumptuous homage to old Shanghai. Inside an unremarkable exterior, a dimly lit, cavernous space has been beautifully and thoughtfully decorated with genuine Chinese antiques, wall hangings and furniture. It's like walking into an (oriental) Aladdin's Cave. Moreover, The Door has any number of semi-private and private rooms perfect for a romantic rendezvous.
We decided against ordering a bottle of Hennessey (at an insane 20,000RMB) and opted instead for a Last Emperor Martini (vodka, lychee liquor + fresh lime) and a Delicious Martini (vodka, contreau + gin) at 60RMB each. Upon tasting our 'tinis, we decided our unsmiling waitress must have mixed the two cocktails up. She insisted that she hadn't; we still think she did.
As a huge amount of care has gone into creating a gorgeous space, with a drinks list and menu to match, it is disappointing that the service is rather lacklustre. Any romantic urges we felt were somewhat extinguished by the polite but totally uninterested service.

Glamour Bar @ M on the Bund
An oldie but a goodie, the Glamour Bar still hits all the right notes for a date setting - the d:|cor is internationally stylish, the location is second-to-none, the menu is impressive, the service is excellent and the seating is comfortable.
Drinks are on the pricey side (cocktails at 68RMB) but servings are large and expertly executed. Tim raved about his prize-winning Martini, declaring it "the best Martini I've ever had." You can also order from M on the Bund's menu - the mouthwatering Australian Pavlova or Cr::me Brulee would be ideal (and sexy) desserts to share.
Glamour Bar is perfect for a first date because you don't have to worry about anything; it's all been taken care of by the exceptionally well-trained staff. And if you're stuck for conversation, well, you can look out the windows and try to guess the names of the neon-lit buildings dotted along the Bund. We didn't have that problem however, and were soon schmoozing on the couch.