Louis Vuitton unveils glam Shanghai store
(Agencies)
Updated: 2004-09-24 11:27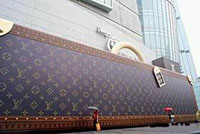 LV's new decorated Shanghai boutique.

Louis Vuitton opened a glamorous new Shanghai boutique September 22, defying Chinese copycats who have flooded world markets with cheap knockoffs of its handbags.

Gilt-lined LV steamer trunks and models in fur-lined coats and stiletto heels abounded as Louis Vuitton executives christened the spacious outlet, said to be China's biggest luxury brand store, in the Plaza 66 mall on ritzy Nanjing West Rd.

Though counterfeiters operate brazenly in Shanghai and other cities, luxury goods makers like Louis Vuitton, Giorgio Armani, and other big name brands say they believe that China is following up on promises to crack down on fake products and that the market is too lucrative to ignore.

Protection of trademarks and other intellectual property "has seen tremendous improvement over the last two years," said Christopher Zanardi-Landi, Louis Vuitton's general manager for China.

"We've seen extraordinary changes. It's an ever-improving situation," he said.

Asked for specific examples of improvement, Zanardi-Landi noted a recent announcement in Beijing that the government would enforce a ban on counterfeit products in local markets notorious for selling them.

There's been little evidence of that in Shanghai.

Earlier Thursday, just a few kilometers (about two miles) to the south of Nanjing Rd., peddlers of fake brand bags were operating openly in the city's best-known open air bazaar, Xiangyang Market.

There, "Gucci" and "Dior" bags were in plentiful supply.

Though the peddler's stalls do not openly display Louis Vuitton bags, they do show visitors catalogues of products to be found at stores hidden in side streets.

Sellers of counterfeit bags aggressively chased after market visitors, waving leaflets describing the products available - at a fraction of the prices charged for the real thing.

Zanardi-Landi noted that for Louis Vuitton, which sells its products only through its own outlets, there would be little possibility of duping a customer into believing he or she was buying the real thing when it was a fake.

The Shanghai opening was timed to coincide with China's first ever Formula One grand prix, to be held Sunday.

Louis Vuitton opened its first store in China in 1992 in Beijing's Palace Hotel and has operated at Plaza 66 since 2001. It upgraded the boutique, expanding it to two floors and 900 square meters (9,700 square feet) this year as part of a nationwide expansion intended to meet what it says is soaring demand for its products.

In the past month Louis Vuitton has also opened stores in Xi'an, in north-central China, and Xiamen, on the southeast coast, bringing the number of its outlets on the mainland to 11.

Sales are strongest at boutiques in cities like Beijing and Shanghai.

But even in provincial cities there are plenty of customers willing to plunk down 11,500 yuan (US$1,400) for a little black dress or 4,650 yuan (US$560) for a pair of pink LV sneakers.

"The growth rate in China is at such a speed it's a challenge to keep up with it," he said.