Uncertainty grips the market
By Zhang Kun (Shanghai Star)
Updated: 2004-07-08 08:52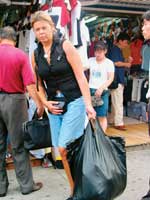 "Ant name-brand bags? Watches? Omega Watch?" When you wander in crowded Xiangyang Market, you will definitely meet with such hawkers sneaking up to you, showing a torn product brochure or a fake watch.
Counterfeiters, after multiple police campaigns, have gone underground, joining hands with hawkers in the city's famous Xiangyang Market.
The rampant spread of counterfeit goods, together with the hawkers, may force the government to move the bustling market out of the area.
An announcement broadcast repeatedly in the market tells shoppers not to purchase goods from hawkers, since their products don't have any guarantee of quality or safety.
But fake name-brand clothing and accessories remain a major attraction for international shoppers. Shirts with Burberry patterns, bags with Fendi, Louis Vuitton and Prada logos, are all available in indistinguishable copies that are sold at extremely low prices.
The hawkers will lead you through confusing lanes into old houses near the market. Before your eyes get used to the dark interior, you start climbing the dangerously steep stairs, then you are led into a small showroom packed with fake goods branded as Louis Vuitton, Prada, Mont Blanc, or other famous names, ranging from their classic designs to their most recent summer releases.
The sales person may demand a few hundred yuan for a bag, but after some bargaining, the price of a woman's handbag may decrease by over 60 per cent, to between US$15-US$20.
Counterfeit harvest
Over 330,000 copycat products were confiscated in the first five months of this year alone.
Even on a hot workday afternoon, the market is noisy and full of shoppers and tourists from all over the world, many carrying their "harvest" in black plastic bags. Policemen were engaged in hunting down such underground shops, so many lanes beside the market were blocked.
"I don't know," answered a socks vendor in the market, when asked about whether he knew whether the market would be forced to move. "They say it no longer matches the city environment."
Neighbouring the market are high-end apartment buildings and department stores such as Printemps and Parkson.
According to Monday's Shanghai Morning Post, the land lease for the market will come due next May, and the government, upset by the rampant counterfeiting and hawking, has decided to move the market out of the Huaihai Lu commercial zone.
But only two days after this report, a staff member identified by the surname Fang denied the story, saying that the leasing contract would be prolonged and there wasn't a timetable for moving Xiangyang Market away from the area. "The market has been signing land leasing contracts on an annual basis. There is no decision that the market should be removed next year," Fang said.
"What the newspaper claimed has actually not been settled yet," said the office director of the market administration, Zhu Liankou.
Tourism spot
Xiangyang Market, originally Huating market, located near the Maison Mode department store and known for its export brandname clothes, opened for business at its present location in 2000.
The land was leased to a company in Hong Kong in 1996, which had planned to build office buildings here. But the funding for the development was never realized. The area, after being left unused for years, deteriorated into a wasteland dominated by weeds.
Then the New Shanghai International Commercial Development Co Ltd took over the land to host the Xiangyang Market of Clothes and Gifts.
The market became an instant success with over 800 shops and stalls. Shoppers pour in every day. Nearly 1,000 foreign customers come each day according to statistics from the market administration. It became a hot tourism spot, visited by 10 to 15 tourism groups every day in the busy seasons.
Most of the shop owners can speak simple English. With the help of electronic calculators, they can communicate and "negotiate" efficiently with shoppers. You can also hear Cantonese, Japanese and other languages there.
Like pirated DVDs and traditional Chinese-style costumes, counterfeit clothes have become a favourite souvenir for overseas visitors to Shanghai - an ironical representative of the city's international culture.
"What did you say? It will be closed?" a local man responded quickly to the news. "I would rush to the market and shop there if it was to be closed tomorrow."