NEW YORK - Russian President Vladimir Putin was named Time magazine's "Person of the Year."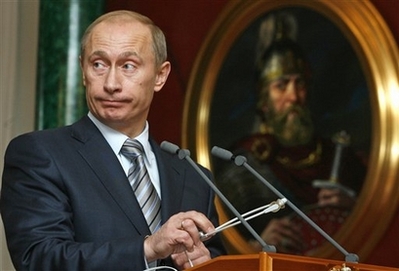 Russian President Vladimir Putin listens to Greece Prime Minister Costas Karamanlis, unseen, during a news conference in Moscow's Kremlin on Tuesday, Dec. 18, 2007. Prime Minister Costas Karamanlis arrived in Moscow on Monday for an official visit focused on expanding energy and military cooperation between Russia and NATO member Greece. [Agencies]
The 2007 honor went to the Russian leader because of Putin's "extraordinary feat of leadership in taking a country that was in chaos and bringing it stability," said Richard Stengel, Time's managing editor.
Others who were in the running included Nobel Prize-winner Al Gore and author J.K. Rowling.
This year's honor was a return to the magazine's tradition of picking an individual rather than last year's choice of anyone creating or using content on the World Wide Web.
Previous winners have also included Bono, President George W. Bush and Amazon.com CEO and founder Jeff Bezos.