Beijing on alert, China vows victory
( 2004-02-03 16:21) (Agencies/chinadaily.com.cn)
China's capital Beijing, hit hard by last year's SARS epidemic, has stepped up checks for the bird flu virus sweeping across Asia as a top official vowed that the country would win the battle against the new health threat.
Eleven of more than 30 provinces and autonomous regions have confirmed or suspected outbreaks of the avian influenza which has killed at least 12 people in Viet Nam and Thailand and led to the culling of millions of poultry in the region.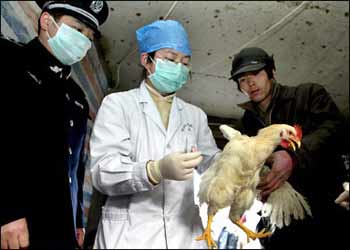 A chicken is tested for the bird flu virus at a poultry farm in Beijing. [Agencies]


China's capital, which has yet to report any outbreaks of the deadly disease, has set up 200 bird flu monitoring stations, the Beijing Star News said on Tuesday.

Beijing has banned the import of live chickens from other provinces and was carrying out spot checks at its border, halting three trucks with 6,000 live chickens from neighbouring Hebei Province on Monday, the Beijing News said.

The city's centre for disease control has set up hotlines for residents to phone in suspected cases. Samples of poultry in Beijing's Haidian District tested negative.

Beijing residents and the city government are particularly sensitive to the prospect of a bird flu outbreak after suffering badly from the outbreak of severe acute respiratory syndrome (SARS).

Vice-Premier Hui Liangyu, head of the National Bird Flu Prevention Headquarters set up recently to cope with the outbreak, vowed that China would defeat bird flu as well.

"We will win the battle with the precious experience we gained in combating the SARS crisis last year," the Xinhua news agency quoted Hui as saying.

Chinese mainland first confirmed that an outbreak of the deadly H5N1 strain of bird flu, which can jump to humans, occurred last month in the southern autonomous region of Guangxi.

The outbreak has widened to include farms in other areas -- Hunan and Guangdong provinces in the south, Hubei and Anhui in the centre and a suburb of Shanghai. There are suspected cases in another five regions, including Xinjiang in the northwest.

Nationwide, authorities have culled or vaccinated thousands of fowl, and ordered poultry farmers compensated and farms disinfected. Inspections have been stepped up at markets and some poultry processing factories, and markets have been shuttered.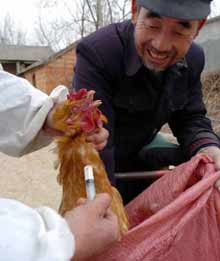 A Chinese farmer looks at a veterinarian vaccinates a chicken at Pinyu county, Henan province, February 2, 2004, after a suspected outbreak of bird flu in the area. [Reuters]

At one site, authorities placed about 3,200 farmers in bird-flu-infected Ezhou city in Hubei province under medical observation for three weeks. They will be isolated if they have a fever or catch a cold, the Beijing News said.

Premier Wen Jiabao also visited Anhui and Hubei to inspect measures to curb the spread of the disease and ensure farmers were compensated.

Wen has ordered measures to stem the spread of the disease, including timely updates from affected areas and preventive steps to keep the new strain from leaping to humans.