China-made Heineken beer is 6 months away
( 2004-02-03 09:00) (Agencies)
Heineken N.V. said Monday it expects to produce China-made, Heineken-branded beer in the coming six months, but its Chinese partner Guangdong Brewery Holdings isn't guaranteed a role in this initial plan.
Still, with the forthcoming consolidation of operations between the two and expected production cost advantages over domestic rivals, the Guangdong Brewery management believes the cooperation will help boost the market share of its domestic-branded beer products in the next five years.
The Dutch company, the world's third-largest brewer, said last week its China associated company, Heineken Asia Pacific Breweries China Pte, will take a 21% stake in the Guangdong province-based beermaker for EUR57 million.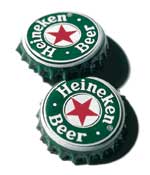 Before that, the world's largest brewer, Anheuser-Busch Cos. (BUD), bought a stake in China market leader Tsingtao Brewery Co. (0168.HK). Other major players like SABMiller PLC (SAB.JO) and Interbrew SA (B.IBR) have also linked up with other leading local firms.
"It doesn't matter if we come in one or two years later," Heineken N.V. Chairman Thony Ruys said in a media briefing. "We're entering a market that is the largest in the world...China is a country of countries."
Currently, Heineken beer is imported into China. When local production starts, it will be marketed as a premier beer in China, posing no direct threat to Guangdong Brewery's domestic Kingway beer.
Rick Linck, managing director of Heineken's Shanghai operations, said the company is finalizing its production plan for Heineken beer in China. It will likely see its first output at the Shanghai plant, now running at a utilization rate of 50%-60%, within six months.
Heineken APB China owns breweries in Shanghai and Hainan, which together can produce about 3.5 million hectoliters at full capacity.
The Dutch executives said it takes time to examine how and when to include any of Guangdong Brewery's Shenzhen or Shantou operations -- expected to have total capacity of six million hectoliters by 2005 -- for Heineken beer production. Neither did they disclose the production target for this year or the sales volume of imported Heineken beer for 2003.
Ruys said there is no decision yet as to when the two partners will consolidate operations. "If it comes, it may come naturally," he said. "Let the business decide."
However, Guangdong Brewery has a positive outlook for its Kingway brand in the next five years, partly mirroring Heineken's dream for China.
"With Heineken, we hope to become one of the top five (beer makers) in China, up from the current No. 12," said Ye Xuquan, chairman of Guangdong Brewery.
However, Guangdong Brewery, the third largest provincial beer maker in terms of sales, said it doesn't expect to immediately transform itself into a national beer maker.
"Guangdong is our headquarters, where we need to solidify our position," said Wu Jie Si, chairman of Guangdong Holdings Ltd., the controlling shareholder of Guangdong Brewery. "We're not desperate for volume or market share, but profitability."
company website: http://www.heineken.com/