Stocks rally greets capital market policy
( 2004-02-02 22:19) (China Daily)
China's stocks rallied yesterday in active trade as investors cheered over fresh policy support from the country's highest authorities.
The State Council announced a series of reforms on Sunday aimed at boosting the development of China's capital market and urged all government departments to enhance co-ordination to that end.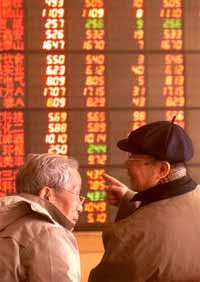 Two shareholders chat at a stock exchange in Beijing Feb. 2, 2004. [newsphoto]
The declaration triggered a long-expected rally in the bourses.
The benchmark Shanghai composite index rose 33.151 points, or 2.08 per cent, to close at 1,623.88 yesterday. It had jumped more than 3 per cent in early trade before profit-taking set in.
The Shenzhen composite sub-index also finished 58.01 points higher at 3,774.88.
Daily transactions of A shares in Shanghai and Shenzhen also surged by 42 per cent and 51 per cent respectively.
"We are very happy to hear the State Council's declaration. It clearly stated the authorities's support for the stock market," a retail stock trader in Beijing said.
Analysts said the fresh policy boost would greatly improve sentiment in a market badly hurt by almost three years of bearish performance.
The new document clarified the government's position on many key issues regarding the capital market and set a positive note for future reforms.
For example, it encouraged product innovations and the opening of new fund-raising avenues for brokerage houses.
The government also highlighted the importance of protecting investors and called for the listing of more good-quality firms.
An analyst with Shenyin & Wanguo Securities said the new document was different from previous policy announcements in that it would have a medium to long term bolstering effect on the market.
It was the first time since 1992 the State Council released such comprehensive guidelines in regards to capital market development.
Financial heavy weight CITIC Securities was one of the top performers yesterday, surging its 10 per cent daily limit to 9.11 yuan (US$1.1).
Investors also built positions on other large-capitalized stocks, expecting further market rallies to make profits.
Capital market reform expected
The State Council's announcement of new guidelines on capital market development on Sunday is expected to lead to a whole host of concrete reform plans for the sector in China this year, officials and experts said.
This will include the permission of higher stock investment ratios of the insurance and social security funds, wider financing channels for securities brokerages, preferential taxation to encourage capital investment and a solid solution of the liquidity problem in bourses.
The State Council's declaration is undoubtedly very positive news for the securities industry as it covers almost all the crucial issues in the capital market, said Fang Xinghai, deputy general manager of the Shanghai Stock Exchange.
But more importantly, it sets up a new legal framework and heralds a faster pace of parallel reforms in the future, said Fang.
Many of the reforms mentioned in the document are likely to be carried out soon, such as a higher ratio of securities investment by the insurers, social security fund and occupational pension fund, which is expected to diversify their own investment portfolio and increase the number of institutional investors in the bourses, he predicted.
Securities houses, long dogged by limited financial resources, will also get more sufficient funding.
The State Council declaration said that more qualified securities houses would be allowed to go public and some would start to issue bonds. And if risk control can be enhanced, they will also get more bank loans and can even enter the interbank market.
Implementation of such a plan still awaits parallel regulations by the securities and banking authorities.
Poor co-ordination between different government agencies used to greatly affect the efficiency during the reforms.
But the situation is expected to change now, with the authoritativeness of the State Council document, which has asked for improved co-ordination.
The establishment of a policy co-ordination system in the securities market will help stabilize market sentiment and avoid contradictions of different sectoral regulations, said Ba Shusong, deputy director of the financial research institute of the State Council's Development and Research Centre.
Meanwhile, the new document also put the protection of investor interest as a top priority and urged the reforms to improve the quality of listed companies to ensure better returns for investors.
All this shows respect for stock investors, especially minority and public investors, helping to maintain market confidence, said Ba.
Insiders said the authorities would also reduce taxes during dividend payments to encourage capital investment.
On the other hand, the long-awaited second board market is also expected to take shape, though no timetable has been announced.
A press release issued yesterday by the Shenzhen Stock Exchange said it would step up preparation of the second board market to improve services to small and medium-sized enterprises.
China's stock market, after more than a decade of development, is widely expected this year to climb out of almost three years' of bearish performance.
It will also be supported this year by the healthy Chinese economy, which grew at a staggering 9.1 per cent in 2003 and is widely expected to grow at least more than 7 per cent this year.