Premier: Bird flu prevention a tough job
( 2004-02-02 16:14) (Xinhua)
Premier Wen Jiabao urged governments at all levels to attach greater importance to preventing the bird flu epidemic, during his inspection tour on January 31 and February 1 of two affected regions.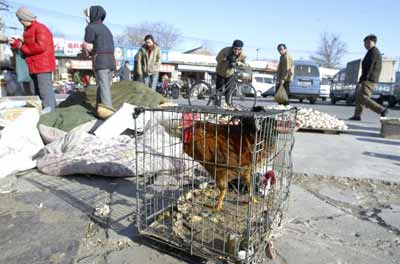 A chicken is left in its cage at an outdoor market in Beijing on February 2, 2004. Chicken vendors in China's capital said business had declined an estimated 70 percent since the outbreak of bird flu on the mainland. [Reuters]


Bird flu prevention was a tough job for China, said Wen when visiting Shima Village of Ma'anshan City, east China's Anhui Province, and Shifosi Town of Wuxue City, central China's Hubei Province.

The two places were declared to have, respectively, confirmed and suspected cases of bird flu last Friday.

The conditions for bird raising in most rural areas of China were still backward, which made the prevention work especially difficult, said Wen. He asked officials at all levels to attach greater importance to the disease and reinforce the prevention efforts.

China's central authorities have issued guidelines and a series of policies on avian influenza prevention and local departments should strictly follow and implement them, he said.

Regions with reported bird flu cases should take decisive measures to firmly control the spread of the disease and those with no reported cases should be well prepared for bird flu control.

The premier also urged the strict implementation of compensation for farmers affected by bird flu. Local governments should conduct public education campaigns about the disease, said Wen.

He said it was an important task to prevent human infection of the disease.

Efforts should also go into agricultural production and raising farmers' incomes, he said.

Wen also inspected the local veterinary station during his tour and extended greetings to the veterinarians fighting to control the disease.

So far, confirmed bird flu cases were found in Long'an County, Guangxi Zhuang Autonomous Region, south China, and Wugang City, Hunan Province, and Wuxue, Hubei. East China's Shanghai and Anhui Province, south China's Guangdong Province and northwest Xinjiang Uygur Autonomous Region have reported suspected cases.

Compensation to farmers

The governments in bird flu-hit areas have begun giving compensation packages to farmers whose poultry were slaughtered during emergency efforts nationwide to check the spread of bird flu.

A compensation team from the local government reached Zhanglingshang Village of Wuxue City, central Hubei Province, where bird flu cases had been reported, on Friday to pay the farmers.

According to the city's animal epidemic control headquarters, there were a total of 3,600 farmers in three towns involved in the compensation, and the municipal authorities have raised over 1 million yuan (US$122,000) in fund to compensate.

Ma'anshan City, in east China's Anhui Province, has been compensating farmers for their 1,716 head of poultry that have been slaughtered. The compensation was made in three villages, including 1,102 farmers, around a local chicken farm where suspected bird flu cases were found.

Starting on February 2, the government of Nanhui District of Shanghai will spend 6 million yuan (US$723,000) to compensate farmers. Some 300,000 head of poultry in Kangqiao area of Nanhui were slain.

In Long'an County in south China's Guangxi Zhuang Autonomous Region, the government destroyed 14,000 head of poultry in the areas around a duck farm where bird flu cases were reported, and quarantined all poultry five kilometers around the duck farm.

Most farmers in Long'an have gotten compensation from the government. The compensation was not available so far for only a small portion of poultry that were killed in the open country because they were unable to identify their owners to date.

The government of Wugang City, in central China's province of Hunan, has completed the compensation work.