Shanghai denies bird flu patient reports
( 2004-02-02 15:12) (chinadaily.com.cn)
Jiao Yang, a spokesperson of Shanghai municipal government, denied reports that the city government faxed a news release to mainland media late on Friday acknowledging that "Shanghai has found and quarantined its first suspected bird flu patient."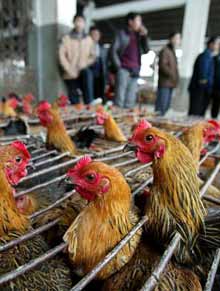 Chickens sit in cages at a poultry market in Shanghai Sunday Feb. 1, 2004. Local authorities have quarantined a farm where an outbreak of bird flu is suspected. [AP Photo]

Jiao on Saturday described the report that ran in some overseas newspapers on January 31, including the Hong Kong-based Mingpao, as "a rumor". He said the Shanghai municipal government never released such information to the media.

Jiao said no human infection was found in Shanghai. Officials in Shanghai have taken emergency measures to prevent possible spread of the bird flu in the city after a suspected case was reported in Nanhui District on Friday, he added.

The Shanghai municipal government issued a decree Sunday night, banning the wholesaling and retailing of live poultry at local markets.

Officials at the markets are urged to enforce a strict quarantine system to ensure only those poultry products with a quarantine certificate are sold in the city.

The city has slaughtered 300,000 birds in a three kilometer radius of the suspected case and sanitized the area.

The district government has also blocked all major intersections in the involved area to ensure that no poultry is transported out.

Five New Cases Reported

New suspected cases were reported Sunday in the city of Yongkang, in Zhejiang Province; Yichang, in Hubei; Chenggong County, Yunnan; Pingyu County, Henan Province; and a division of the Xinjiang Production and Construction Corp in the Xinjiang Uygur Autonomous Region.

On Saturday Ezhou of Hubei Province and Chao'an County of Guangdong Province also reported the virus.

It has been almost a week since the first confirmed the presence of H5N1 avian influenza, or bird flu, in poultry in South China's Guangxi Zhuang Autonomous Region. Such cases were also reported in Hunan and Anhui provinces.

So far, there are no known human cases of H5N1 avian influenza in China, said Ministry of Health spokesman Mao Qun'an.

Nation Stepped Up Preventative Measures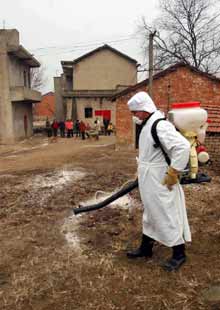 A health worker, wearing full protective garments, sprays disinfectant in Ezhou of Hubei Province, where a suspected outbreak of the deadly bird flu virus was detected.[Xinhua]

With the discovery of more cases, the nation has moved quickly to step up measures to contain the spread of the virus.

President Hu Jintao, on a state visit to Egypt, said on Saturday China has full confidence in its ability to tackle the problem and in preventing the disease from spreading.

The Chinese mainland has been culling poultry within 3 kilometres of infected farms and vaccinating poultry within 5 kilometres.

Measures also include a ban on exports of poultry and poultry products from affected areas, closure of poultry markets and strengthening quarantine requirements of the residents from affected areas.

The State Council has established a National Bird Flu Prevention Headquarters in an effort to intensify prevention and control work on bird flu, and Vice-Premier Hui Liangyu was appointed director-general of the headquarters.

However, with more outbreaks reported daily, the mainland's window of opportunity to contain the spread appears to be getting smaller, said WHO spokesman Roy Wadia.

The greater the number of cases, the bigger the challenge, especially given the mainland's size and the geographical spread of poultry populations.

One of China's main weapons against the influenza spread is speed.

When the disease breaks in a new place, culling poultry, isolation and quarantines are quickly imposed, said Mao Qun'an of the Ministry of Health.

Still, the WHO has raised concerns over the environmental impact of the bird culls and urged people involved "take suitable safety precautions" to help prevent the possibility that these people might be infected.

Two More Death In Vietnam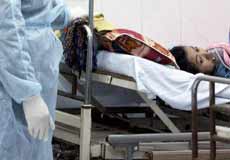 Vietnamese bird flu patient Ngo Le Hong, 30, lies in Hanoi's National Institute for Clinical Research of Tropical Medicine January 20, 2004. An year-old man died at a hospital in Ho Chi Minh City, becoming the ninth death from bird flu in Vietnam. [Reuters]

Early on Monday morning, an 18-year-old man passed away at a hospital in Ho Chi Minh City, becoming the ninth person to die from bird flu in Vietnam.

The man from the Koho ethnic minority group in the Central Highlands province of Lam Dong died in the early hours of Monday morning, Tran Tinh Hien, deputy director of the city's Tropical Disease Hospital, said.

"He was admitted to our hospital on Thursday and on Saturday he tested positive for H5N1," he said. "According to our information he had direct contact with chickens in his village in the Di Linh district."

The victim is the 11th person confirmed to have contracted the H5N1 strain of avian influenza in Vietnam, nine of whom have died.

A four-year-old boy has made a full recovery, while an eight-year-old girl is in a stable condition at the Tropical Disease Hospital, Hien said. Dozens more remain hospitalised as suspected cases.

Human-to-human transmission possible

While refused to confirm the latest death, the WHO said human-to-human transmission of bird flu was a "possible explanation" for two deaths in Vietnam.

The WHO has already warned that avian flu's highly pathogenic H5N1 strain could combine with a human influenza virus to create a lethal new virus that could kill millions of people across the globe through human-to-human transmission.

The WHO said two Vietnamese sisters who fell ill on January 10 and died on January 23 in a Hanoi hospital could have contracted the lethal H5N1 strain of avian influenza from their dead brother.

"The investigation has not been able to conclusively identify the source of infection for the two sisters," the UN health agency said in a statement.

"However, WHO considers that limited human-to-human transmission, from the brother to his sisters, is one possible explanation."

The sisters, aged 23 and 30, are part of a cluster of four cases of respiratory illness in the northern province of Thai Binh. The cluster included the two sisters, their brother and his wife.

The brother died shortly before his sisters were admitted to hospital and no samples were available from him for H5N1 testing. His wife was admitted on January 13 at the same time as the two sisters, but has recovered.

However, WHO cautioned that there was "no evidence of efficient human-to-human transmission of H5N1 occurring in Vietnam or elsewhere".

Bird flu has been recorded in 10 Asian nations and regions since December and was blamed for 10 deaths last month, eight in Vietnam and two in Thailand.

Since the killer H5N1 strain emerged in South Korea late last year, Asian nations have quickly fallen prey to the disease which is believed to be spread by wild migrating birds.

More than 33 million chickens, ducks and other poultry have been culled across the region to curb the virus.

Cambodia, China, Indonesia, Japan, Laos, South Korea, Thailand and Vietnam have all reported outbreaks of H5N1 among poultry, while China's Taiwan Province and Pakistan have reported weaker strains.