Man faces death after killing 67
( 2004-02-02 07:49) (China Daily)
A man whose trail of death left more than sixty people dead in four provinces was sentenced to death Sunday.
Yang Xinhai, 38, killed 67 people and raped 23 women in a spree that spanned four provinces in four years. He was convicted Sunday in Luohe, in Central China's Henan Province.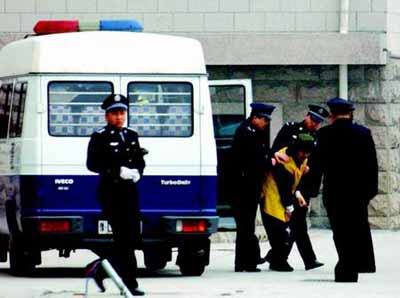 Yang Xinhai is taken to the court by police February 1, 2004. [sina.com.cn]
The Luohe Intermediate People's Court sentenced Yang to death for crimes of intentional homicide, willful and malicious injury, pillage and rape.
Yang said he would not appeal to a higher court.
Yesterday's hearing, which lasted an entire day, was conducted behind closed doors to protect the identities of the female rape victims.
Yang, of Henan's Zhengyang County, was arrested last November in Cangzhou of North China's Hebei Province.
He confessed to 17 crimes in Henan, two in Hebei, two in East China's Anhui Province and one in East China's Shandong Province since 2000.
The toll of his crime spree goes beyond the dead and raped. Another 10 people were seriously injured. In some instances, Yang put whole families to death.
On December 6, 2002, Yang killed Liu Zhanwei, a farmer in the Liuzhuang Village of Henan's Xiping County who is in his 30's, his mother, wife, son and daughter.
Only Liu's father, 68-year-old Liu Zhongyuan survived because he slept in a new house that night.
"We planned to move to the new house on December 9. Who can imagine that they experienced such tragedy only three days before?" the surviving father cried.
Liu Zhongyuan recalled that seeing his granddaughter that fateful morning. She was lying on the ground, with a hole in her head. The room was full of blood.
"My wife could still bat her eyelids but could not speak any more."
Liu Zhanwei, his wife and son were all found with bloody faces.
Liu Zhongyuan's wife died 10 days after being sent to hospital on December 6.
The other four people died where they were found.
Yang Xinhai later confessed that he used an iron hammer to kill the five family members at 1 am on December 6.
He buried the hammer near a tomb at night and threw his bloody clothes into a river.
Yang then walked two hours to the city of Luohe. He said he used a new hammer for each murder.
Yang dropped out of school in 1985 and began to travel to other regions, working as a hired labourer.
He was twice sent to re-education through labour camps, in 1988 and 1991, for theft in Xi'an, Northwest China's Shaanxi Province and Shijiazhuang, North China's Hebei Province.
He was sentenced to five years in prison in 1996 for an attempted rape in Zhumadian, Central China's Henan Province.
He was released in 2000.
That was when his killing spree began.
Sources with the local police of Cangzhou, Hebei Province, where Yang was arrested, said that he killed and rape, but not for money.
"He committed crimes to merely hurt society," a local policeman was quoted by the Jiangnan Times as saying.
During his stay at a detention house in Luohe, when asked by other criminal suspects why he killed so many people, Yang said, "killing people is very usual, nothing special."