Suspected killer stands trial for 65 murders, 23 rapes
( 2004-02-01 14:13) (Chinadaily.com.cn)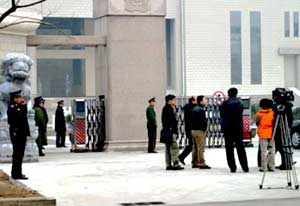 A photo shot outside Luohe City Intermediate People's Court, central China's Henan Province shows media workers waits outside to cover the close-door trail of Yang Xinhai. [sina.com.cn]

A man suspected of murdering 65 people and raping 23 women in the course of a three-year rampage was facing a close-door trial on Sunday in central China's Henan Province.

The trial of Yang Xinhai, 38, was taking place at the Luohe City Intermediate People's Court in the province. It is said Yang Qingjiu, a vice-president of the court in charge of criminal cases, would serve as the presiding judge for this case.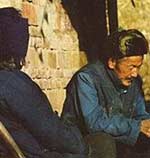 Parents of Yan Xinhai falls into deep silence when facing reporters. [sina]

The case was expected to attract considerable public attention and security staff had been ordered to appear at the court building before dawn. Journalists from across the country gathered in Luohe to cover the trial, but were told the trial would not be open because rapes were involved.

Yang, about 1.62 meters high and characterized as an introverted drifter, was said to have bicycled from one murder scene to the next beginning in 2000, and was not caught until November last year.

Police have listed robbery and rape as leading motives in the case, but Yang was also described as a deranged killer who enjoyed what he was doing.

Reports of serial killings began appearing with unusual frequency in the Chinese media late last year, highlighting the growing threat of crime felt by many people.

Yang told police during interrogation that he hoped to have a chance to live, but if not, he would like to donate his organs.