Art or obscenity? Body-painting in debate
( 2004-02-01 13:52) (Shanghai Star)
Body-painting was made known to ordinary people in the country in November, 2000, when a naked model, whose body was painted with pictures, appeared before audiences at a promotion event in Wuhan, capital city of Central China's Hubei Province.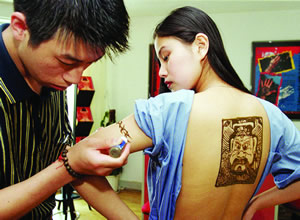 A body-painter paints on the leg of a back-nude model. The body-painting gained great popularity among the public as its debut as sales promotion event in Wuhan, capital city of Central China's Hubei Province in November, 2000. [China Daily/file]

"A beautiful young woman sat quietly at the centre of the stage surrounded by withered branches and hay," was how a local reporter described the event. "Her face and naked chest were painted with florid pictures in white and red."

Since then, the new "art form" was frequently adopted in other commercial promotions in many cities.

Last November, the Ministry of Culture, the Ministry of Public Security and the State Administration of Industry and Commerce had issued a joint notice to ban public body-painting displays. It was reported that this was because they had a negative impact on social morality.

In East China's Jiangxi Province, a body-painting advertisement provoked a lawsuit after the local industrial and commercial authorities banned the advertisement by saying that it affected social ethics. In Central China's Hunan Province, police took away two young body-painted models, insisting that their activities were obscene.

Moral provocation

"In Chinese culture, bodily exhibition is closely connected with ethics," said Yu Hai, professor from Fudan University. "However, it is different in some other countries, where women might strip naked to protest against fur."

He said that in some foreign countries, there was a clear and mature rating system, yet China still lacked any such thing.

"It is a mess, thus someone may do something obscene while under the umbrella of art," he said. "If put another way, it is just like a society that has no public toilets."

It is widely believed that it was the commercialization of body-painting that led to the backlash.

As a local major company providing brokerage services for models, Paras Talent Management Co Ltd said they had only been involved in body-painting once, with a few models at a fashion show.

"The painting went very well with the clothes," recalled Fang Hua, general manager of the company.

She said that her customers had also expressed an interest in body-painting, but her company had not gone in that direction, "Because we want to settle on the best all-round plan, which body-painting does not amount to," she said. "The status quo is lacking in originality and quality."

Chen Lusheng, a member of the Chinese Artists' Association, has greatly criticized the low taste of the body-painting presently popular in China.

In his new book entitled "For the Sake of 'Art"', he remarks upon a total of 12 different promotions involving body-painting throughout China during August, 2002.

"It was the body, not the painting, which became the focus," he said. "Its popularity just revealed a challenge to tradition and realism."

"The exhibition of a naked body, which used to be considered private, shows that body-painting is now piercing through certain traditional restraints to acquire some free space. Thus, social ethics have to withstand unprecedented pressures," he said.

Many scholars and artists also stressed that the body-painting in China over the past several years was only meant to entertain people, which made it part of a downward trend from art to pornography.

Art or obscenity?

Zhao Danhong, an artist who has opened an art gallery in Shanghai, said that many commercial body-painting shows in China were merely catering to people's curiosity.

She arranged a body-painting party in her gallery in August, 2001.

"It was real art, and the models were all volunteers," she said. "Some well-known artists participated, and we only painted on models' faces, arms and backs."

According to her, body-painting should be allowed for commercial promotions, but it must take morality into consideration.

"The ban is a good sign," she said. "But enforcement of the measure should follow the stipulated rules, with specific targets."

Zhao complained that her new book, which contained several images of body-painting, was now facing censorship.

"Such pictures are quite different from body-painting for commercial uses," she said.

Yu also agreed that the ban was not a desirable solution.

"It could drive the phenomenon underground," he predicted. "Such administrative measures don't help to establish a borderline between art and pornography."

Many experts also argued that not only promotion organizers and audiences, but also administrators should be blamed. After all, relevant government departments had long ignored the problem.

"However, if these departments had imposed a ban from the beginning, they might have been accused of Philistinism," Yu said. "Our society is not fully mature. Systematic formal regulation is badly needed, and we cannot just rely on morality for rules."

Changing picture

Ma Qinzhong, an art critic in the city, analyzed from another prospective how people's attitude towards body art has been gradually changed, although much of the body-painting to take place in China has been vulgar.

He cited an example from the 1980's, when, at a body art exhibition, an artist presented a drawing of a young naked woman.

"It created a great disturbance, and the woman's parents even refused to recognize her," he said. "However, such drawings are no longer considered very troublesome, and body art can also bring enjoyment."

He explained that when seeing 10 people with stylish clothes, people may say they are all beautiful or handsome. However, they may only find one beautiful body out of the 10.

"It is not easy to reveal a body's beauty," he said. "The key is that people should learn to judge a person's body as a natural phenomenon."