Kelly: Six-party talks likely in February
( 2004-02-01 12:40) (Agencies)
Washington's point man for North Korea said on Sunday a fresh round of talks on the Korean nuclear standoff could open as early as February.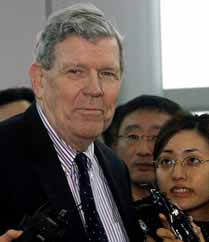 James Kelly arrives in Seoul.

Assistant Secretary of State James Kelly, who arrived in South Korea on Sunday, said he was "mildly optimistic" about the prospects of six-nation talks.

We "may be able to have another round of six-party talks before very long. Perhaps even this month of February," Kelly told reporters upon arrival in Seoul.

For months, the United States, China, Russia, Japan and South Korea have been trying to restart talks on persuading North Korea to abandon its nuclear weapons programs. A first round ended in August in Beijing without much progress.

North Korea has insisted it needs nuclear weapons as a deterrent against a possible US attack.

But it says it will suspend its nuclear programs as a first step in talks if Washington lifts sanctions against the North Korea, resumes oil shipments, and removes North Korea from its list of countries that sponsor terrorism.

The United States has responded that North Korea must first verifiably begin dismantling its nuclear programs before receiving any concessions.

Meanwhile, North Korea claimed the U.S. military conducted at least 190 spy flights against it in January, accusing Washington of mapping in preparation for a sudden attack.

North Korea's official news agency KCNA said Saturday that U-2, RC-135 and other reconnaissance planes of the U.S. military were used to commit "round-the-clock" espionage.

The nuclear dispute flared in October 2002 when U.S. officials accused North Korea of running a nuclear weapons program in violation of a 1994 deal requiring the North to freeze its nuclear facilities.

South Korea also optimistic

South Korean Foreign Minister Ban Ki-moon Sunday expressed hope that the new round six-way talks on nuclear issue of the Democratic People's Republic of Korea (DPRK) would take place this month.

"The DPRK had offered to hold new talks in early January. I think there is a possibility six-party talks could be convened within February in view of various political situations," Ban said in an interview with the Yonhap News Agency.

However, Ban also said that at the current stage it is not appropriate for the DPRK to demand the US make a series of concessions as a precondition for the abolishment of its atomic weapons program.

The DPRK said in January that it will suspend its nuclear programs as a first step if the US lifts sanctions, resumes oil shipments and removes Pyongyang from its list of terrorism-sponsoring countries. But Washington has demanded Pyongyang verifiably dismantle its nuclear programs before any concessions.

"The DPRK should pledge that it will dismantle all of its nuclear programs, including high enrichment of uranium, completely,verifiably and irreversibly," Ban said.

"A nuclear freeze is the first step in a nuclear dismantlement.A verification means an inspection so nuclear inspections should follow," he said.

China, the DPRK, the US, Russia, South Korea and Japan held the first round nuclear talks in Beijing last August. The concerning parties have made a lot of efforts to resume such talks as early as possible.

On Sunday, US Assistant Secretary of State James Kelly came to Seoul for consultations with South Korean officials on the nuclearissue.