Russia said preparing nuclear exercise
( 2004-01-31 09:57) (Agencies)
Russia's nuclear forces reportedly are preparing their largest maneuvers in two decades, an exercise involving the test-firing of missiles and flights by dozens of bombers in a massive simulation of an all-out nuclear war.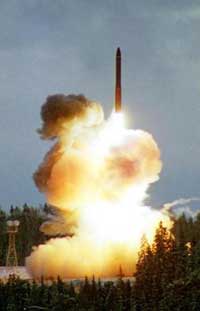 A Russian intercontinental ballistic Topol-M missile takes off from a launch pad somewhere at undisclosed location in Russia in this 2001 file photo. The Russian nuclear forces plan a massive exercise next month that will involve test-firing several ballistic missiles and taking dozens of strategic bombers into the air - the maneuvers the daily Kommersant newspaper said would be the largest in more than 20 years. [AP Photo]

President Vladimir Putin is expected to personally oversee the maneuvers, which are apparently aimed at demonstrating the revival of the nation's military might and come ahead of Russian elections in March.

The business newspaper Kommersant said the exercise was set for mid-February and would closely resemble a 1982 Soviet exercise dubbed the "seven-hour nuclear war" that put the West on edge.

Official comments on the upcoming exercise have been sketchy. The chief of Russia's Strategic Missile Forces, Col.-Gen. Nikolai Solovtsov, was quoted by the Interfax-Military News Agency as saying the planned maneuvers would involve several launches of intercontinental ballistic missiles in various regions of Russia, but he wouldn't give further details.

A Defense Ministry spokesman refused to comment on the reports. The Russian military typically says little about upcoming exercises.

Kommersant said the maneuvers would involve Tu-160 strategic bombers test-firing cruise missiles over the northern Atlantic. Analysts describe such an exercise as an imitation of a nuclear attack on the United States.

Other groups of bombers will fly over Russia's Arctic regions and test-fire missiles at a southern range near the Caspian Sea, the newspaper said.

As part of the exercise, the military is planning to conduct several launches of intercontinental ballistic missiles, including one from a Russian nuclear submarine in the Barents Sea, the Kommersant report said.

The military also plans to launch military satellites from the Baikonur cosmodrome in Kazakhstan and the Plesetsk launch pad in northern Russia ¡ª a simulation of the replacement of satellites lost in action, Kommersant said.

Russia's system warning of an enemy missile attack and a missile defense system protecting Moscow will also be involved in the exercise, it added.

Pavel Felgenhauer, an independent military analyst, said the military has regularly held nuclear exercises that were timed to coincide with the annual test-firing of Soviet-built missiles.

"It has been a routine affair, but it can be expanded if they want a show," he said.

Ivan Safranchuk, head of the Moscow office of the Center for Defense Information, a Washington-based think-tank, said the maneuvers would further strengthen Putin's popularity ahead of the March 14 presidential election he is expected to win easily.

Putin has repeatedly pledged to rebuild Russia's military might and restore pride to the demoralized service. When he ran for his first term in 2000, he flew as a second pilot in a fighter jet and later donned naval officer's garb on a visit to a nuclear submarine ¡ª images that played well with many voters who are nostalgic for Soviet global power and military prestige.

"This exercise will make a great show, with Putin receiving reports from military commanders," Safranchuk told reporters.

Kommersant said Moscow had notified Washington about the exercise, describing it as part of efforts to fend off terror threats.

Putin's support for the United States following the Sept. 11, 2001 terror attacks bolstered relations with Washington and helped broker a new U.S.-Russian nuclear arms reduction deal and a Russia-NATO partnership agreement in 2002.

But the U.S.-Russian honeymoon has soured lately over Moscow's criticism of the war in Iraq, U.S. concerns about authoritarian trends in the Kremlin's domestic policy, and Russia's perceived attempts to assert its authority over ex-Soviet neighbors.