Nude modelling, business or art?
( 2004-01-30 16:29) (Shanghai Star)
Good nude models are always difficult to find, said photographer and critic Lin Lu, who has taken pictures of 70 to 80 per cent of the artists' models in Shanghai.
"There can't be more than 20 of them working in fine art academies in Shanghai," he said. The artist has just produced a series of photographic works that combined nude pictures with classical Chinese paintings.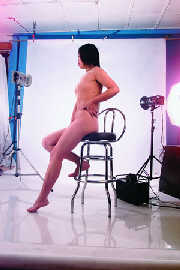 The greatest difficulty lies in models' unwillingness to expose their faces. "They want to be pictured with their faces turned aside,"
A good professional nude model should have such qualifications as a good body shape and a good feeling for the camera - if she is to work for the photographer - as well as a professional attitude toward her image.
They have family and friends, who might react badly to seeing a nude picture of their daughter or wife displayed in public.
There have even been legal cases about this in China. A model named Zhang Suhua was recognized in a 1986 TV series about artist Liu Haisu, the first to adopt model-sketching in art education in China. Her fellow villagers suddenly "realized" what her life as a model involved and turned up at her home out of curiosity. Some complained that she should not have "sold" her body. Eventually the 19-year-old girl was driven insane.
Another model was worried her nude image might appear on the evening news on TV during the national fine art exhibition of nude portraits in 1988. The exhibition in China Art Museum was a big hit that year, marking an important step in China's opening up.
She invited her husband to the cinema that night, but her parents-in-law watched TV and recognized her anyway, causing a family dispute. She sued the academy who had broken their previous promise to protect the models' privacy. The case only came to a conclusion after nine long years.
Beyond pay
Usually a model for sketching in fine art academies receives around 15 yuan (US$1.81) for each hour's work, with each session usually lasting from 6-8 hours.

This is a photo taken 68 years ago which caused a social "earthquake" at the time. There are a total of 22 people in the photo. All of the young people have casual expressions on their faces and are wearing contemporary clothing - except for the woman in the middle, who is naked and with her face turned away as if she does not want to be recognized. [Shanghai Star]
Photography models are paid better than those posing for drawings, often earning above 100 yuan (US$12.00) an hour.
Lin paid his models 300 yuan (US$40.50) for two hours, which he said was not much for a good model.
"Some models have passed their prime years, and some have bad shapes," Lin said. "Even if everything goes fine, she may not react well enough in front of the camera."
A good model should understand the artist's intention and help to realize the effect the artist wants to achieve.
One model Lin spoke highly of was Guo Xu, who came from the mountain areas in Sichuan Province.
"She is experienced, and devoted to the job," Lin said. "You can only catch the right feeling after good communication with the model, and you need to be familiar with her."
Most models just do the work for the pay, forgetting about it after it is done, without any interests or passion for the job. Guo's exceptional attitude in this respect made her especially precious.
Another artist, Yang Feiyun, a professor in the Central Academy of Fine Arts, created most of his masterpieces portraying his wife. "It was convenient, and I captured my artistic feelings easily by portraying her, since I am of course very familiar with her," said the artist.
'Western doctrine'
Models in fine art academies became invisible to the public after 1949. They were farmers but enjoyed the monthly salaries and treatment of urban workers -which was far more favourable than working on the farm. But they did physical work and sunbathing too, in order to avoid muscle atrophy.
In the early 1960s, a high official in the central government wrote that using nude models was a "Western doctrine" that should be eliminated. "I don't believe one has to portray models in order to be an artist," said Kang Sheng. It was then believed that using models was just an excuse for the art field to abuse women.
A notice was issued prohibiting the use of models in art departments in 1964. It was a fatal blow to fine art education, especially for oil painting and sculpture. Three art teachers in the Central Academy of Fine Arts wrote a letter about this issue to Chairman Mao.
Mao replied that to prohibit the portrayal of models was "feudalistic ideology" and improper. He wrote that even if something bad in fact happened, it would be a necessary sacrifice for art.
Although Mao wrote several times in support of artistic models, the dominant ideas were against them - especially nudes - until 1978.
A news story from that year concerned the first recruitment of models by fine art academies. An unexpected number of people applied, some even accompanied by their husbands.
Ten years later, a book entitles "Theory of Nude Art" by art theorist and painter Chen Zui, the first book on this field in China, was published, selling 200,000 copies, a surprisingly large number in China's publishing circle.
The first national nude art exhibition held at the end of the same year enjoyed a large audience of over 200,000 in Beijing alone.
An interesting phenomenon was that people tended to slow their pace as they passed realistic works that portrayed models vividly, but picked up speed as they passed by abstract works.
Keen visitors lined up in front of the museum, and tickets for the exhibition were sold for 10 times the original price on the black market.
Movie nudes
Nude bodies appeared in the movie industry of China in 1994, when Gong Li starred in a biographical movie about woman artist Pan Yuliang, one of the pioneering artists in modern Chinese art. Pan was known to have disguised herself as a man in order to portray the male nude. Gong Li appeared in a discrete nude scene.
The first "real" appearance of a nude body in a Chinese movie was "Red Cherry" made in 1996, which tells of the experience of several Chinese teenagers in Russia during World War II.