Hezbollah: Group may kidnap more Israelis
( 2004-01-30 09:19) (Agencies)
Hezbollah will kidnap more Israelis to secure the release of Lebanese prisoners, if necessary, the militant movement's leader warned Thursday.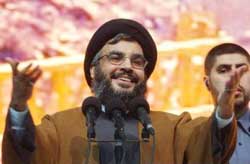 Hezbollah Leader sheik Hassan Nasrallah speaks during a mass rally to welcome 21 Lebanese prisoners freed by Israel, in a suburb of Beirut, Lebanon, Thursday Jan. 29, 2004. [AP]

Speaking at a mass rally to welcome 21 Lebanese prisoners freed by Israel hours earlier, Sheik Hassan Nasrallah said his guerrillas could capture more Israelis to bargain for the freedom of Lebanese still held in Israeli prisons.

Turning to a huge poster of a guerrilla ambush in which three Israeli soldiers were captured in October 2000, Nasrallah said: "This is a choice."

The soldiers' bodies were part of the major exchange of prisoners and remains of fighters that was effected between Israel and Hezbollah on Thursday through German mediation.

Shortly before Nasrallah spoke, Israeli Prime Minister Ariel Sharon warned Hezbollah against kidnapping.

Speaking at a memorial service for the three dead soldiers in Israel, Sharon said: "Israel will not allow any enemy or terror group to turn kidnapping and ransom into a system. There are means we have not yet used. If, heaven forbid, the circumstances are changed, we will not hesitate to use them."

He did not elaborate on the means.

Nasrallah said that Hezbollah guerrillas were heavy-handed when they took the three Israeli soldiers dead.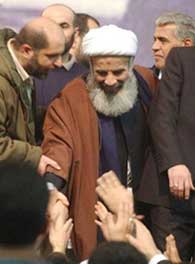 Sheik Abdel Karim Obeid, a Hezbollah leader and one of the most famous prisoners released, center, shakes hands with his supporters during a mass rally to welcome 21 Lebanese prisoners freed by Israel in Suburb of Beirut, Lebanon, Thursday Jan. 29, 2004. [AP]

"I pledge to you that, next time, they will bring them alive," he said.

The same month that the soldiers were ambushed, Hezbollah managed to kidnap Israeli businessman Elhanan Tannenbaum as he visited an Arab state. As Tannenbaum was the only Israeli known to be alive in Hezbollah's custody, he became a major chip in the protracted negotiations for Thursday's exchange. He returned to Israel on the same plane as the soldiers' coffins.

Nasrallah told the rally it was "foolish" for the Israeli government not to have released Samir Kantar, the Lebanese citizen who has been held the longest in Israel. "Because they didn't do that, I assure you that they will regret it in the future."

Under the complex exchange, Israel freed about 400 Palestinians to the West Bank and Gaza Strip, nearly 30 Lebanese and other Arabs who were flown to Beirut via Germany, and handed over the remains of 60 guerrillas to the International Committee of the Red Cross on the Israeli-Lebanese border.

In return, Hezbollah handed over Tannenbaum and the three soldiers' bodies.

The two sides have undertaken to engage in new negotiations for further releases once Hezbollah has produced hard evidence about the fate of Ron Arad, an Israeli airman who was captured when his plane was shot down over Lebanon in 1986 but disappeared two years later. In exchange for evidence on Arad, Israel is expected to release Kantar and possibly more Palestinians.

Nasrallah said in his speech that Hezbollah would exert every effort to secure information about Arad.