China calls for lifting of arms embargo
( 2004-01-29 11:46) (chinadaily.com.cn)
The European Union's (EU) arms embargo on China should be lifted, Chinese Foreign Ministry spokeswoman Zhang Qiyue said Thursday.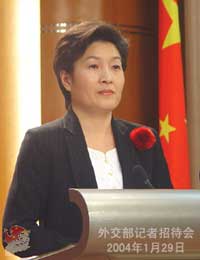 Chinese Foreign Ministry spokeswoman Zhang Qiyue [newsphoto]

Zhang said the arms embargo was a product of the Cold War era, which hampered cooperation between China and EU members.

"We have noticed that many EU members have adopted positive attitudes towards the lifting of the arms embargo", she said, saying China appreciated the efforts of certain EU members, including France and Germany.

She expressed the hope that the arms embargo would be lifted as soon as possible.

The EU is considering lifting the ban on arms sales to China, the foreign ministers' meeting of EU members and would-be members revealed Monday. The EU Council had opened discussion on the issue and ministers have invited the Permanent Representatives Committee and the Standing Political and Security Committee to examine the issue.

US refutes Chirac's call to end China arms embargo

The Bush Administration does not support France's call for an end to a European Union embargo on arms sales to China, in the latest sign of frosty ties between Paris and Washington, the AFP reported.

French President Jacques Chirac told his Chinese counterpart President Hu Jintao in Paris lately that the 15-year-long embargo,slapped on China after 1989 "makes no more sense today." Chirac said he hoped the ban on Beijing would be scrapped "in the coming months".

However, the U.S. State Department said it viewed bans on arms sales to China by the United States and EU as "complimentary", and did not agree they should be lifted.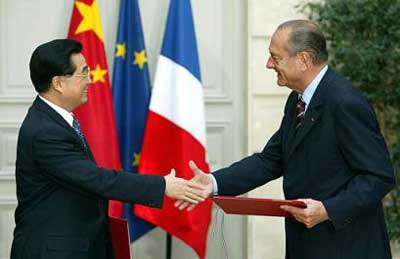 Chinese President Hu Jintao, left, and his French counterpart Jacques Chirac exchange documents after signing a political and trade agreement at the Elysee Palace in Paris, Tuesday, Jan. 27, 2004. [AP]
"For the United States, our statutes and regulations prohibit sales of defense items to China," said State Department spokesman Richard Boucher. "We believe that others should maintain their current arms embargoes as well."
Boucher said: "We believe that the US and European prohibitions on arms sales are complementary, were imposed for the same reason, specifically serious human rights abuses, and that those reasons remain valid today."
There was no immediate comment on this by the Chinese Foreign Ministry.
Chirac said Tuesday French Foreign Minister Dominique de Villepin urged his EU counterparts in Brussels to lift the embargo, "which dates back more than 15 years and which no longer corresponds with the political reality of the contemporary world."
That meeting referred the issue to technical-level officials for review.
Several EU countries, including the Netherlands and Sweden, are reluctant to lift the ban, according an AFP report, quoting diplomats.
In a joint declaration with Chinese President Hu, Chirac affirmed that the island of Taiwan was "a part of China" and said France "opposes any unilateral step, including a referendum aimed at changing the status quo, which would increase tensions in the Straits and lead to the independence of Taiwan."
That language mirrored almost exactly U.S. President George W. Bush 's warning to Taiwan, given in the Oval Office during a visit to Washington last month by Chinese Premier Wen Jiabao.
Relations between France and the United States plunged to a modern low last year as the two traditional allies clashed on US-led war over Iraq. Last week, US Secretary of State Colin Powell admitted he was sometimes annoyed by France's world view. "The French are a proud people that have strong views about things, and from time to time, yes, they have annoyed me," Powell said. "And I'm sure from time to time I have annoyed them."