WHO: Slaughtering will slow bird flu
( 2004-01-29 08:48) (Chinadaily.com.cn)
The World Health Organization insisted on Wednesday the mass slaughter of infected poultry is key to controlling the outbreak of bird flu sweeping Asia, but Indonesia said it doesn't intend to order its farmers to kill their poultry.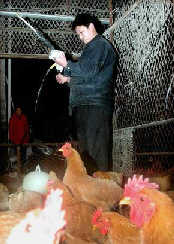 An owner of a chicken stall at a market in Changsha, capital of Central China's Hunan Province, sterilizes the cage. China has stepped up efforts to prevent and control the spread of bird flu after the first case was confirmed the Guangxi Zhuang Autonomous Region on Tuesday. [Xinhua]

Two sisters in Viet Nam became the latest human fatalities, bringing the death toll of bird flu to 10.

Health ministers from across Asia held an emergency meeting in Bangkok on Wednesday to consider how to stop the disease, but did not reach a consensus on destroying their livestock.

Tens of millions of chickens and ducks have died in Asia - from the disease or in government-ordered slaughters aimed at containing it.

Indonesia has not officially reported bird flu cases to the World Health Organization, but announced on Sunday it was combatting the virus. The head of the country's agricultural quarantine agency, Budi Tri Akoso, said on Wednesday that slaughtering infected birds would be left to the discretion of farmers. The Indonesian government is considering a vaccination campaign for poultry.

Three international agencies - The World Health Organization, the UN Food and Agriculture Organization and the World Organization for Animal Health - have urged killing birds as the best approach. Experts said there is no consensus that vaccination is enough to avert an epidemic.

China said it intends to kill all livestock birds within a two-mile radius of infected sites and quarantine poultry within a 1 1/2-mile radius of the stricken farms.

"All countries will adopt the best way to end the spread of this virus as soon as possible. Each country will have to find its own way to end this problem," Thai Foreign Minister Surakiart Sathirathai said.

However, WHO officials said they hope Indonesia will change its view.

"It seems that (Indonesia) is yet not convinced of the effectiveness of culling. Maybe they are thinking about the social and economic consequences of this because Indonesia is now in the process of election," said Dr. Kumara Rai, director of communicable diseases for WHO's Southeast Asia region. "But hopefully with more advocacy from us they will change their minds."

Dr. Shigeru Omi, WHO regional director for the Western Pacific, said there are three major strategies that must be implemented if Asia is to stop bird flu: Slaughter and quarantine, better surveillance, and protection for workers destroying the infected birds.

"There's no need to panic yet, but there's no room for complacency," he said.

Bird flu has raced through poultry farms in at least 10 Asian countries. Two sisters in Vietnam became the latest victims on Wednesday, bringing the confirmed human death toll to eight in Vietnam and two in Thailand.

Fending off accusations that it initially tried to cover up the emergency to protect its lucrative poultry exports, Thailand said it would fire bureaucrats who allegedly failed to report the true extent of the disease that has now been detected in about one-third of its provinces.

Most human cases have been traced to direct contact with sick birds and many victims have been young children.

In a joint statement, the ministers vowed to study ways to fight animal disease outbreaks, to develop cheaper test kits, a vaccine, and anti-viral drugs in case the virus becomes established in humans.

Asians are shunning chicken, a favored dish, in a disaster for the region's poultry industry and a health scare comparable to last year's global outbreak of severe acute respiratory syndrome.

Although there has been no evidence of human-to-human transmission in the latest outbreak, health officials are concerned the virus might mix with a human influenza strain to create a mutant form that could trigger the next human flu pandemic.

Officials also have said there are no indications so far that bird flu is spreading to people who eat properly cleaned and cooked poultry products, but governments worldwide have slapped import bans on poultry from countries affected with bird flu.

WHO said a human vaccine could be available in about six months and that it is considering recommending regular vaccinations for workers destroying birds, to reduce the risk of a human flu strain mixing with the bird strain.

The European Union banned imports from Thailand last week. Kuwait, Jordan and Sri Lanka on Tuesday banned poultry imports from several affected countries.

Wednesday's conference in Bangkok drew representatives from 13 governments, including China, the European Union and the United States.

China and Laos reported their first cases of bird flu in poultry on Tuesday, with Beijing saying there was one confirmed case and several suspected ones among ducks in the southern region of Guangxi, bordering Vietnam.

Cambodia, Indonesia, Japan, Pakistan, South Korea and Taiwan also have suffered outbreaks. However, the virus that has killed flocks in Pakistan and Taiwan is a different, milder strain of avian flu, not the same kind that is a threat to people.