Millions on the move put squeeze on transport
( 2004-01-29 08:04) (China Daily)
The nation's transport authorities are in for a testing time as millions of Chinese people end their week-long Spring Festival holiday and start the exodus back to work across the country.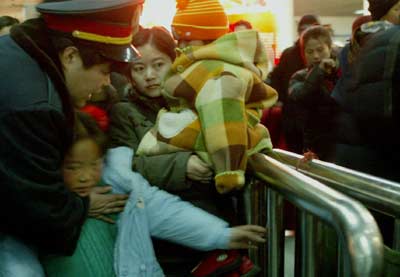 Passengers pass a ticket check point at a railway station in Beijing January 28, 2004. [newsphoto]
The Ministry of Communications said Wednesday and Thursday should see the peak period of those heading back to work.
Official statistics indicate that Wednesday the nation's railway network carried a massive 4.3 million passengers, an increase of 0.8 per cent compared to the same period last year.
Guangzhou, the capital city of the economically advanced Guangdong Province, has been receiving trains crowded with migrant labourers from Southwest China's Chongqing Municipality and Central China's Hubei Province since Tuesday.
But more will come until the end of this month, when the Guangzhou Railway Station expects to report an "unprecedented" daily passenger volume of over 250,000 coming into the city.
A similar situation is taking place in the air. One of China's busiest airports, the Baiyun Airport in Guangzhou received 75,000 travellers yesterday.
Most Chinese have to return to work within the week and there will be no let up in the heavy traffic flow until after February 5, the traditional Lantern Festival. Many Chinese still regard this as the end of Spring Festival.
Local transport authorities have generally increased the number of vehicles available to ensure people get back to work on time. But more importantly, they are pledging greater efforts to safeguard travellers' safety.
Ten serious traffic accidents, each of which claimed at least five lives, in eight provinces - Guangdong, Shandong, Shanxi, Liaoning, Anhui, Jiangsu, Yunnan and Sichuan - between January 18 and 25 have drawn the attention of the central government.
The Ministry of Public Security issued an emergency notice on Monday, urging traffic control departments to adopt effective measures to reduce casualties. It believed the accidents were mainly caused by overloading, speeding and wild overtaking.
On Monday morning, a vehicle carrying 74 people overturned in Qiubei, Southwest China's Yunnan Province, killing 24 people including the driver and injuring 50, according to a press release from the ministry.