Chirac warns Taiwan of referendum
( 2004-01-27 09:40) (Agencies)
Chinese President Hu Jintao and French President Jacques Chirac on Monday discussed bilateral relations and major international issues of common concern and reached broad consensus. In their first meeting after Hu's arrival in Paris, the two presidents spoke highly of the 40 years of relations between China and France since the two countries established full diplomatic ties.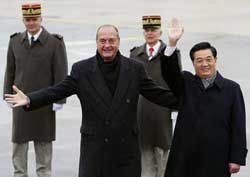 French President Jacques Chirac, foreground left, gestures as China's President Hu Jintao, right, waves upon Hu's arrival at Orly Airport, south of Paris,Jan. 26, 2004. Hu started a state visit to France Monday. [AP]

Chirac, in a strong show of support for his visiting counterpart, warned Taiwan on Monday that it will be committing a "grave error" that could destabilize that region by holding a referendum in March.

At a state dinner to honor Chinese President Hu Jintao, French President Jacques Chirac added his weight to China's opposition to the plan of Taiwanese "President" Chen Shui-bian.

"Breaking the status quo with a unilateral destabilizing initiative, whatever it is, including a referendum, would favor division over unity," Chirac said. "It would be a grave error. It would carry a heavy responsibility."

Speaking later, Hu thanked Chirac for his "clear position of principle ... against the moves by the Taiwanese authorities that tend toward the independence of Taiwan through a referendum."

"We firmly oppose the independence of Taiwan and will not let anyone separate Taiwan from the rest of China in one way or another," Hu said.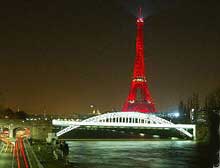 A red Eiffel Tower lights up the Parisian skyline. [AFP]

France was looking to Hu's visit to strengthen its ties with the world's fastest growing economy. China is looking to France, one of its closest European friends, for help in improving relations with the 15-nation European Union.

Hu said closer ties between the two permanent members of the U.N. Security Council, who both opposed the U.S.-led war in Iraq, would help promote "peace, stability and prosperity in the world."

France and China bear "a great responsibility in world affairs and represent an important part of the international scene," he said in an arrival statement, adding that he hoped to "write a new chapter in the annals" of their relations.

Hu and Chirac discussed Iraq, Iran, the Middle East and Afghanistan at a meeting Monday afternoon, Chirac spokeswoman Catherine Colonna said.

Chirac told Hu that France backs Chinese efforts to peacefully defuse tensions on the Korean peninsula stemming from North Korea's nuclear weapons program.

The state visit was Hu's first to Western Europe since he ascended to the presidency last March.

The European Union may end its ban on arms sales to China this spring."Our feeling is that the embargo is out of date as relations between Europe and China improve," said French Foreign Minister Dominique de Villepin.

China's Foreign Ministry called for an end to the ban "as soon as possible," saying it does not help "the good momentum in the development of the relationship between China and the EU."

Hu is going to address the French parliament on Tuesday. In his address to the French parliament ¡ª a rare privilege for a world leader ¡ª Hu was expected to discuss China's growth and foreign policy.

Trade between China and France last year exceeded $13 billion, a 61 per cent increase over 2002, according to Chinese figures.

But France trails some of its European partners in China's megamarket and feels that its economic presence there is not on par with its political weight.

To further cement economic ties, Hu is expected to sign a joint operating agreement between China's TCL and France's Thomson SA, a venture that would create the world's top TV maker ¡ª with an expected annual revenue of more than $3.5 billion.