Merrymakers crack Beijing firecracker ban
( 2004-01-27 08:45) (China Daily)
Bright flashes and loud booms rocked urban Beijing during this year's Spring Festival despite posters reading "firecrackers forbidden" posted around the city.
The posters went up in city streets and lanes to remind residents of the city's 11-year-old ban on the festive, but often dangerous, explosives.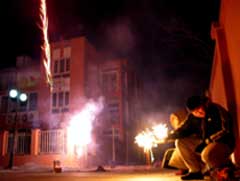 Residents light fireworks at a community in suburban Beijing's Daxing District, where firecrackers are not banned. More Beijingers ignored the ban and put on fireworks in the downtown area during the New Year Holiday this year. [China Daily]

Beijing's eight urban districts and some suburban areas have banned firecrackers since 1993, but most Beijingers are still reluctant to bid farewell to what has been a traditional part of celebrations for generations.

Many people admitted to having lit firecrackers downtown on Wednesday, the eve of the Chinese New Year, though they knew they were banned.

"It was not festive enough without firecrackers," passers-by gave as their main reason for ignoring the ban during a brief interview with Xinhua reporters on Sunday. "I knew from my childhood that the loud booms of firecrackers ward off evil and bring in a new year," said Zhang Donghua, 46.

"I joined the crowds of merrymakers in the street when I found it boring to switch the remote control from one channel to another, only to find more boring TV programmes."

"The ban was applauded by many people when it began because less injuries and fires were reported," said a citizen who requested anonymity, "but as the years go by, people have started to wonder why this special time of the year should be celebrated in silence."

Xu Chunhua, 13, said his father bought him enough firecrackers to last for two weeks. "I wanted the loud booms to take away all my bad luck from the past year," said Xu, "I don't remember having lit a firecracker since I was seven or eight."

Feng Jicai, a renowned writer who upholds folk customs, said firecrackers were not just a means of entertainment, but a carrier of festivity as well.

"The Chinese like to light firecrackers and lanterns on New Year's eve, with the belief that their brightness and noise scare away demons."

Feng said the centuries-old tradition was part of the national identity and should not be banned altogether in modern times.

"To avoid losing our own identity in a modern and globalized society, we should think of better ways to sustain our culture while minimizing its harms," he said.

In fact, even the authorities have apparently relaxed their enforcement of the ban.

An unnamed official from the Hepingjie Subdistrict Committee told China Daily that unlike previous years when he and his men, along with police patrols, would go out enforcing the ban during the holiday season, he spent more time with his family this year. Even if police do patrol the streets, they are there to guard against fire hazards and possible personal injuries rather than enforce fines.

Still, firecrackers are a serious problem. Police sources said they caused 141 fires, killed two people and injured 27 Wednesday night in Beijing, but mostly on the outskirts, where the festive explosives are largely allowed.

Tianjin, a port city near Beijing, has exercised a more flexible ban, allowing firecrackers to be lit in downtown areas on the eve of the Chinese Lunar New Year and until 2:00 am on New Year's Day.