Poultry imports banned from Thailand, Cambodia
( 2004-01-26 08:43) (China Daily)
China announced Sunday a ban on imports of poultry and related products from Thailand and Cambodia to prevent the possible inflow of bird flu and safeguard domestic stockbreeding.
The import ban came after cases of bird flu were confirmed in those two countries.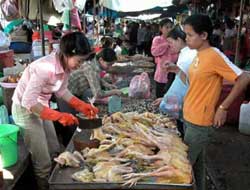 A Cambodian woman buys chicken in a market in Phnom Penh, Cambodia Saturday, Jan. 24, 2004. Cambodia and Thailand announced Friday that outbreaks of the avian flu in chickens had been confirmed, bringing to six the total number of countries affected. [Xinhua]

The State Administration of Quality Supervision, Inspection and Quarantine and the Ministry of Agriculture issued a joint notice yesterday requesting withdrawal or destruction of poultry products imported directly or indirectly from Thailand and Cambodia.

Poultry products couriered to China or carried by passengers are also forbidden to enter China, according to the notice.

The rule also applies to poultry products carried on foreign ships, aircraft and trains that pass through or stop over in China.

Poultry products from the two countries that are seized by Chinese customs should be destroyed under the supervision of local inspection and quarantine authorities and anyone who violates the rule will be punished in line with the country's quarantine law, according to the notice.

The Thai government on Friday confirmed two children had been tested positive for the H5N1 virus on chicken farms in central Thailand. Meanwhile, a farm on the outskirts of the Cambodian capital Phnom Penh has reported an outbreak of bird flu.

Thailand brought in troops and prisoners yesterday to kill millions of chickens in the hope of stopping the spread.

Indonesia yesterday confirmed an outbreak among chickens but has no evidence so far that the disease has spread to humans.