'American Idol' has best debut of season
( 2004-01-21 11:13) (Agencies)
LOS ANGELES - Fox's "American Idol" hit impressively high ratings notes in its third season premiere.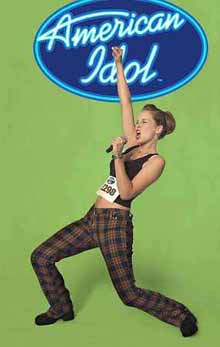 The quest for instant pop fame scored big with viewers as the return of 'American Idol' struck ratings gold for the struggling Fox network. The third edition of 'Idol' premiered on January 19, 2004. [Reuters]

The talent show drew 29 million viewers Monday, the best start for any series in the 2003-04 season, according to preliminary Nielsen Media Research figures released Tuesday by Fox.

Fox also enjoyed a solid debut for "My Big Fat Obnoxious Fiance," a reality series that debuted after "American Idol." The new series was watched by 19.6 million viewers.

Final figures for both series, which helped Fox win the night among total viewers as well as advertiser-coveted younger ones, will be available Wednesday.

"American Idol," which has produced three instant music stars in Kelly Clarkson, Ruben Studdard and Clay Aiken, was expected to provide a boost for the struggling network.

Gail Berman, Fox's entertainment president, recently called the show Fox's "engine" and said it's as important to the network as "Friends" is to NBC or "Survivor" is to CBS.

Last May's finale, in which Studdard narrowly beat out Aiken in nationwide voting, drew more than 38 million viewers.

This year, an estimated 80,000 aspiring stars applied to be on the show. Contestants are again being judged by Paula Abdul, Randy Jackson and Simon Cowell, with Ryan Seacrest back as host.

"My Big Fat Obnoxious Fiance" features a woman out to convince her family she's serious about a questionable mate to win a prize. She's unaware that her "fiance" is, in fact, an actor making the task as difficult as possible.