China vows keep bird flu out of the country
( 2004-01-21 10:53) (Agencies)
Fresh from fighting SARS, China is vowing vigorous measures to keep bird flu out of the country, setting up quarantine checkpoints along its border with Vietnam and saying Wednesday it would step up inspections at all ports of entry.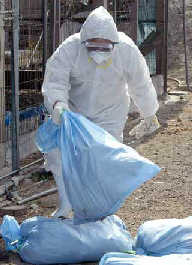 Taiwan agricultural worker packages slaughtered chickens for disposal at a farm in the southern county of Chiayi on January 18, 2004. Taiwan found two farms infected with a mild strain of bird flu and slaughtered 55,000 chickens in a bid to prevent the disease from spreading. [Reuters]

All poultry markets in the nation are also up for increased scrutiny, the government said.

On Wednesday, media said the State Council ordered agencies that deal with border areas to increase inspections and to consider prevention of bird flu ``as an important and imperative task.''

The orders came as China set up a daily reporting system for bird flu and took sweeping action in the southwestern province of Yunnan, ordering the shutdown of 40 trade ports along its 1,200-kilometer (740-mile) border with Vietnam and setting up quarantine checkpoints.

So far, no cases of bird flu have been reported in the Chinese mainland, and there has been no evidence of person-to-person transmission.

Still, the World Health Organization has warned that bird flu could be more serious than severe acute respiratory syndrome. SARS killed 349 people in the Chinese mainland last year, and the country has three confirmed cases this season, though none has been deemed life-threatening.

Bird flu has already killed five people in Vietnam, and international health officials say they worry the disease could spread to China's remote southwest. The central government has banned all chicken imports from Vietnam as well as Japan and South Korea.

Millions of chickens have been infected across Asia, and mass slaughters have been ordered by governments to contain the disease's spread.

So far, Vietnam is the only country with confirmed cases in people. Health officials believe patients contracted the disease through contact with the sick birds, but have not confirmed that.

In Yunnan, local officials said any chickens from Vietnam would be confiscated and immediately burned, Xinhua News agency said, adding that more than 100 chickens have been burned so far. The province also announced plans to inoculate five million locally raised chickens in coming days.

``All customs and public security bodies must strictly crack down on any smuggling cases from the bird flu-stricken areas,'' said a notie from the Agriculture Ministry Tuesday.

The government also has ordered inspections of fowl markets, storage facilities and processing factories, and told local inspectors to report to superiors daily.

If the disease is found, all poultry within 3 kilometers (2 miles) of the site must be slaughtered and all poultry within 5 kilometers (3 miles) vaccinated immediately, the government says.